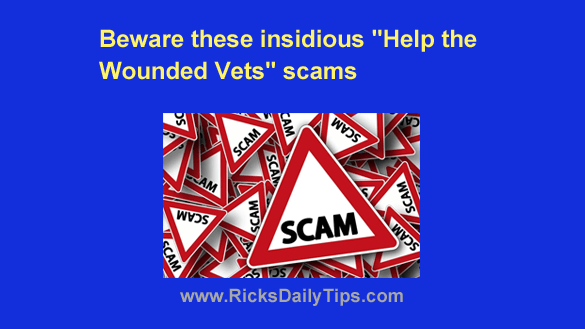 Like my tips?  Click here to sign up for my free Daily Tech Tips Newsletter and you'll never miss one!
---
As you surely know by now, scams are everywhere on the Internet these days.
Unfortunately, many of the most insidious scams pose as ways to help people who truly are deserving of our help.
One of the latest scams to rear its ugly head targets folks who have a desire to do something to help veterans who have been injured in combat.
These scams take various forms…
Some of them arrive via Facebook Messenger.
Others show up in our newsfeeds.
And the most blatant scammers even take out fake Facebook ads asking you to donate to their illicit causes.
What they all have in common is this: The money you donate won't go to any wounded veterans. It'll end up in the scammer's pocket instead.
If you're one of the countless Americans who would like to do something to help our wounded vets, I recommend that you steer clear of any kind of request you see on social media, especially if it arrives as an instant message or as a post in your newsfeed.
And whatever you do, don't respond to any unsolicited emails asking you to help support the wounded veterans.
Each and every one of those can safely be assumed to be fake.
I strongly recommend that you only donate to groups that have been widely recognized as being legit. In general, that probably means the ones you see or hear about in TV and radio ads.
And by the way, I've heard reports of scammers collecting fraudulent donations for vets in person so be on the lookout for those as well.
Bottom line: I think it's wonderful that you want to help out our wounded vets. After all, they have sacrificed so much in order to help keep us free.
But it won't do any of them a bit of good for you to donate your hard earned dollars to a scammer.
As always, it's best to do a little research before pulling out your checkbook or credit card. Then you'll be able to rest easy knowing your money will actually end up helping the folks who really need it (and deserve it).
Bonus tip: Click here to read about several other scams and hoaxes that are making the rounds right now.
---
Cick here to ask me a tech question.