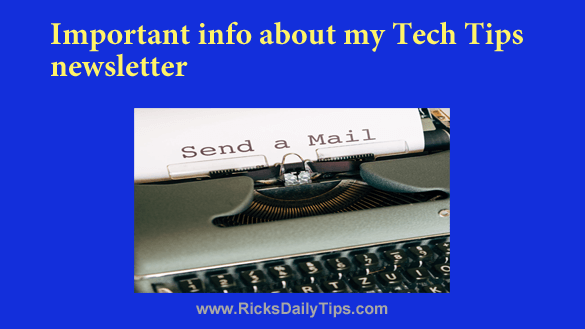 I've been using a service called Constant Contact to write and deliver my daily Tech Tips Newsletter emails for about two years now, and for the most part it has worked out fine.
But recently I've been receiving reports from subscribers that they've stopped receiving my emails.
I did some investigating and found out that this seems to be a new, but quickly growing problem with emails sent via Constant Contact.
It's very important to me that all of you wonderful folks who took the time to subscribe to my newsletter actually receive it.
And that goes double given the fact that the fees I pay to Constant Contact every month are substantial. In fact, they are my largest single expense.
I did some checking around to see if there was a better alternative that I could switch to, and I think I've found one…
From all accounts Substack seems to have about the best delivery stats of any newsletter email service.
For that reason I've decided to temporarily switch to Substack for a few days and see how it goes.
I'll be sending tomorrow morning's Newsletter email (Thursday, September 9) from Substack instead of Constant Contact. That means there will a be a few differences for you to be on the lookout for:
1 – The sender's address for the email you'll receive will be:
2 – The look and layout of the email will be simpler than the emails you're used to receiving because Substack's email creation/editing tools are a bit basic compared to Constant Contact's. But that's fine with me because I'm more concerned about sending useful, high-quality information than a "pretty" email.
3 – The links in the email will be underlined as usual, but they will be black instead of the usual blue.
I'm going to give this new service a try for a few days to see how things go. If Substack delivers good results I'll drop Constant Contact and switch to Substack permanently.
My goal is to always provide the best, and most useful information possible to everyone who wants to receive it. Hopefully the switch to Substack will help me better accomplish that goal.
Bottom line…
On the morning of Thursday, September 9, be on the lookout for an email from:
If you receive that email please hit the Reply button and let me know:
1 – That you received the email.
2 – What you think of the new format.
Thanks so much for signing up to receive my daily Tech Tips Newsletter emails. I appreciate it more than you know!
By the way, if you haven't signed up yet, you can do so right here. Your friends are welcome to sign up too.