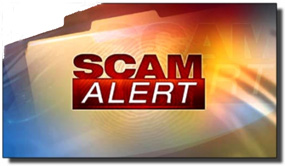 Well, yet another scam is making the rounds on Facebook right now, and it seems to be spreading fast. I know, you're probably shocked (not)!
This one is called the "he is a kidnapper" scam, and you'll see why in just a moment.
As with most Facebook scams, this one varies a bit in its wording.
The scam is being spread primarily via instant messages from your already-scammed friends, and the fraudulent messages look something like this: 
"If you get a request from Sunny Boyie do not accept, he is a kidnapper. Send this to all your friends. Hello we are the company Facebook. You must send this to 20 people to stay active. If you don't you will be disconnected from Facebook. If you think this is fake check the customer service # 316-691-9111."
The name "Sunny Boyie" could actually be any name. That just happens to be the name used in the last scam message I received.
This is an easy scam to fall for. After all, everyone want to steer clear of kidnappers, and we certainly don't want to be booted off of Facebook.
That being said, there are a couple of red flags in this message that indicate right away that this is a scam:
1 – Any time you read something that suggests you'll be kicked off of Facebook if you don't forward a message to your friends, it's a scam. Always.
Facebook does ask some users to verify their identities, but they never send those requests in instant messages (or in posts on their newsfeeds either, for that matter).
2 – Any instant message, newsfeed post or email that instructs you to contact Facebook's "Customer Service" or "Tech Support" by phone is a scam. Always.
As this post explains, Facebook doesn't even have phone numbers for customer service or tech support.
ALL support inquiries for regular users are handled online via the Help Center section of the Facebook website.
Bottom line: It pays to be skeptical of anything that shows up in your newsfeed asking you to take some action to remain on Facebook or call a phone number for Facebook "Support".
---
And now for a bonus tip: Be sure to sign up for my free RicksDailyTips Email Newsletter at the bottom of this page!
If you like this tip, would you mind helping me out by sharing it with others? Just click one of the handy social media sharing buttons below: