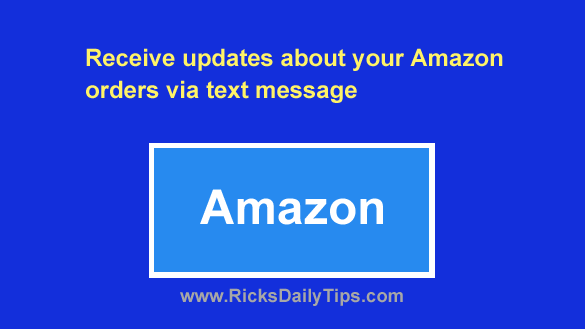 Note: The links in this post are affiliate links.
If you shop at Amazon you're probably familiar with the emails they send letting their customers know when an order has shipped.
But did you know you can have them text you as well?
They will, and it's very easy to set up. 
Simply sign up for "Shipment Updates via Text" and Amazon will send you a standard SMS text message when your package has been shipped and you'll receive another text when it has been delivered.
You will also receive a text message if a problem arises with your shipment (an unexpected delay for example).
It's easy to sign up for "Shipment Updates via Text". Simply visit this page
on the Amazon website and enter your mobile phone number.
Note: You'll be prompted to sign into your Amazon account if you aren't signed in already. Your mobile phone number is the only thing you'll have to enter (or verify) since Amazon already has all of your other info.
After you have signed up you'll start receiving texts about your shipments with your next Amazon order.
Bonus tip: This post explains how to save money when shopping on Amazon by using Amazon Coupons.
---