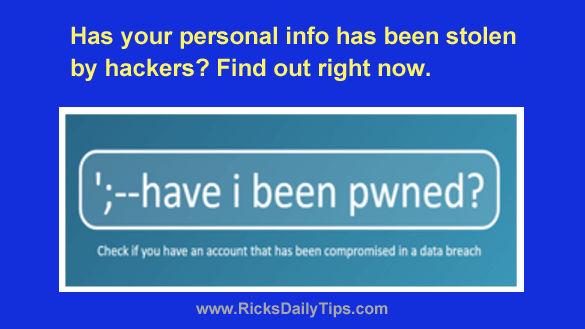 Like my tips?  Click here to sign up for my free Daily Tech Tips Newsletter and you'll never miss one!
---
As you probably know, several major online services and websites have been hacked within the last year or so, putting millions of users' login information and financial info at risk.
If you've been wondering if your info has been stolen via one of those breaches, it's very easy to find out – and it only takes a few seconds. 
Microsoft executive and security researcher Troy Hunt has developed a handy tool that will search several online depositories of stolen user information and tell you within seconds whether your info is contained in them.
To check the status of your personal info, simply click this link and enter either the email address or the username that you use to log in to an online service. You WILL NOT be asked to enter a password or any other information.
After you have entered the email address or username, click the pwned? button. You'll find out immediately whether your information has been stolen in a breach.
If you discover that your info has indeed been stolen, you need to log in to your account with that service or website immediately and change your password. And if that service supports two-factor authentication, I recommend that you enable it right away.
If any financial information like a credit card or bank account number is associated with a breached service you should contact your bank and ask what you need to do in order to prevent the hackers from stealing your money and identity.
Bonus tip: Did you know there's a tool that can help protect your online accounts from hackers even if they manage to learn your password?
It's called Two-Factor Authentication, and it's extremely effective at keeping hackers from logging into your accounts even if they have your login information!
Click here to learn how to enable Two-Factor Authentication on several of the most popular online services and websites.
---
Cick here to ask me a tech question.