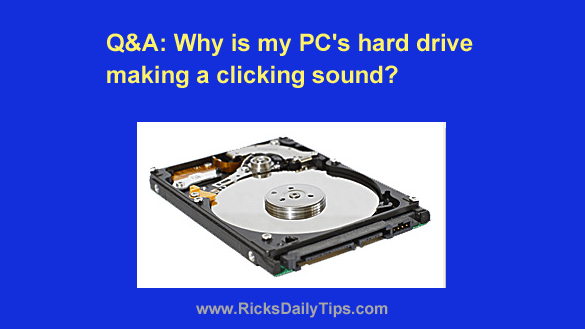 Question from Nancy D:  Rick, my computer has started making a faint, but noticeable clicking sound when I first turn it on.
It only clicks for about 8-10 seconds, then it boots up normally and runs fine until I shut it down.
It's hard to tell for sure, but I took the cover off the side of the computer and the clicking sound seems to be coming from the hard drive.
I haven't downloaded anything recently or made any changes to the system that I'm aware of.
This machine came with Windows 8.1 but it's been updated to Windows 10.
Do you have any idea what I can do to stop the clicking? If it's complicated I'll have to take it to someone who can do it for me because I have zero confidence in my ability to fix a computer.
Rick's answer:  It pains me to have to tell you this Nancy, but your PC's hard drive is getting ready to fail, and probably soon.
You really need to have the drive replaced before it stops working altogether if at all possible because that'll make the process of moving your files to the new drive a LOT easier unless you have a recent backup on hand.
I strongly recommend that you stop using the machine RIGHT NOW and take it to a local computer repair shop.
Assuming that the failing hard drive will work long enough, they'll back up your data, replace the bad drive with a new one, and then reinstall Windows along with your data files.
If the drive fails before they can complete the process explained above, they'll have to replace the bad drive and install Windows from scratch.
Depending on the state of the drive, they might or might not be able to rescue your data files from the old hard drive and put them back onto the new one.
The most important thing for you to do RIGHT NOW is to shut down the computer completely (actually power it down instead of placing it in Sleep Mode).
With any luck the techs at the shop will have you back up and running in a day or two with no loss of data.
They'll be able to supply you with a new replacement drive, but you'll likely save some money if you purchase the new drive yourself. Just take the machine and the new drive into the shop and ask them to make the swap for you.
Amazon has a great selection of hard drives (#ad) to choose from, but I recommend that you consider replacing your bad hard drive with a super-fast solid state drive (SSD) (#ad) instead!
Bottom line: You really need to have the failing hard drive replaced ASAP and you need to keep the computer powered off until you can get it into a repair shop.
I hope this helps, Nancy. Good luck!
---
Never miss a tip!  Click here to sign up for my free Daily Tech Tips Email Newsletter!