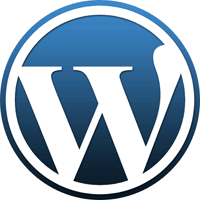 In my opinion, WordPress is the most powerful blogging platform out there, and it's completely free. Some of the largest and busiest websites on the Internet are powered by WordPress, and many of them bear no external resemblance whatsoever to a typical "blog".
It's easy to open a free account at WordPress.com and be blogging in 5 minutes, but there are several important advantages of installing WordPress on your own hosting account with your own domain name. And it's really pretty easy to do! 
1 – Register a Domain Name for your Blog
The first step is to head over to your preferred domain registrar and purchase a domain name (i.e. www.example.com) for your WordPress blog.
I recommend that you take the time to select a great domain name because this one decision will help determine how successful your blog will be throughout its entire lifetime.
I have used and recommended Godaddy for years, but there are numerous registrars to choose from. Simply do a Google search for domain registrars.
2 – Sign up for a Web Hosting Plan
Once you have procured a domain name for your blog, the next step is to sign up for a web hosting plan. Again, I have a preference for first-time bloggers, and it is Hostgator. However, you can go with any web hosting company you choose. Just make sure you purchase a hosting plan that includes Fantastico (more on Fantastico later).
Note: If you decide to go with Hostgator you'll be all set because Fantastico is included with virtually every plan they offer.
Once you have purchased a web hosting plan you'll receive an email containing all the information you need in order to set up your WordPress blog. Two critical pieces of information included in that email are the web addresses for the primary and secondary DNS servers that tell your visitors' web browsers where to find your blog amongst the millions of other websites that inhabit the World Wide Web.
3 – Make your Domain Name point to your blog's Web Server
Once you have retrieved your server's primary and secondary DNS web addresses from the email containing your hosting details, log into your account with your domain registrar and assign those web addresses to the DNS settings for your domain name. If you're using Godaddy it is quite easy:
1 – Visit www.Godaddy.com and click the Log In To My Account link.
2 – Click the Sign In link in the top-right corner of the window, then click the Manage my domains link over on the left.
3 – Log in to your Godaddy account if prompted to do so.
4 – Find the domain name you registered for your blog and click the three dots at the far right side of that line.
5 – Click Manage DNS.
6 – Change the nameserver information to point to the nameservers listed in the welcome email you received from Hostgator.
7 – Log out of your Godaddy account.
Note: It could take up to 24 hours for your DNS settings to propagate to all the DNS servers around the world, during which time your web server will be intermittently inaccessible when you type your blog's web address into a web browser.
4 – Install WordPress on your Web Server
Note: In the steps that follow, be sure to substitute your own domain name for example.com.
After your server becomes stable (you can access it every time you try), it's time to install WordPress and begin blogging! With Fantastico, installing WordPress takes all of 3 minutes! If you chose Hostgator as your web host, here are the steps for installing WordPress:
1 – Log into your server's control panel by typing www.example.com/cpanel into your web browser.
2 – Log in with the username and password assigned to you when you signed up for your hosting plan.
3 – Scroll down to the "Software/Services" section and click on Fantastico DeLuxe.
4 – In the left hand-column you'll see a section labeld "Blogs". Click on WordPress.
5 – Click on New Installation.
6 – If your site will consist of a WordPress blog only (and it probably will), leave the Install in directory field blank, but enter both an Administrator username and Password in the appropriate fields. Write these down for future reference because you'll need them in order to log in to your WordPress control panel later.
7 – Enter an Admin email address. There will be one already populated in the email address field, but I strongly recommend replacing it with a different email address that isn't associated with the blog you're currently setting up. That way if a problem ever develops with your blog, you'll still be able to receive email notifications from WordPress at the email address your enter here.
 8 – Click on Install WordPress.
9 – Click on Finish installation.
10 – Verify that the username and password listed on the confirmation screen match what you have written down. If not, change what you have written down to match the username and password displayed on the screen.
You're done! You now have a working WordPress blog just ready and waiting for you to write your first blog post. Type www.example.com into your web browser and you'll see it.
5 – (Optional, but strongly recommended) Customize your blog's appearance
Log into your WordPress Control Panel by typing www.example.com/wp-admin into your web browser and entering your username and password.
At this point you're ready to customize your WordPress installation by replacing the default theme with one of your choice if desired and/or changing some of the settings in your Control Panel (Those changes are beyond the scope of this article but there is plenty of free help available online. Simply type customize wordpress into Google.)
You don't have to do anything else to your blog unless you want to (I do strongly recommend changing your blog's title!) You're now ready to write your first blog post!
Oh, and one more thing…
This would be the perfect time to enable Two-Factor Authentication on your brand spanking new WordPress blog. This is the single most effective way to keep hackers from breaking into your WordPress admin panel.
---
Note: The links on this page are affiliate links.