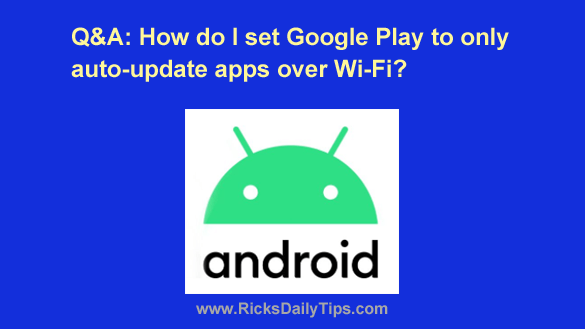 Question from Kara:  I have an Android phone that always auto-updates my apps over my cellular data connection without any warning.
The problem is I sometimes use up my data allotment before the month runs out.
I realize that downloading updates don't use up a lot of data, but they do use some, right?
How can I set my phone to only auto-update my apps when I'm connected to Wi-Fi? 
Or if that's not possible can I just turn auto-update off completely?
Rick's answer:  I feel your pain, Kara. I used to have that problem as well.
Luckily, it's really pretty easy to set Google Play to auto-update only when your phone is connected to a Wi-Fi network. Just follow the steps below:
1 – Launch the Play Store app.
2 – Tap the small thumbnail of your profile photo.
3 – Scroll down and tap Settings.
4 – Tap Network preferences.
5 – Tap Auto-update apps.
6 – Select Over Wi-Fi only.
7 – Tap OK.
That's all there is to it. From now on your phone will only try to automatically update your apps when it's connected via Wi-Fi.
I hope this helps, Kara. Good luck!
Bonus tip: Click here to read about a very easy way to make your Android phone's battery charge last a little longer.
---