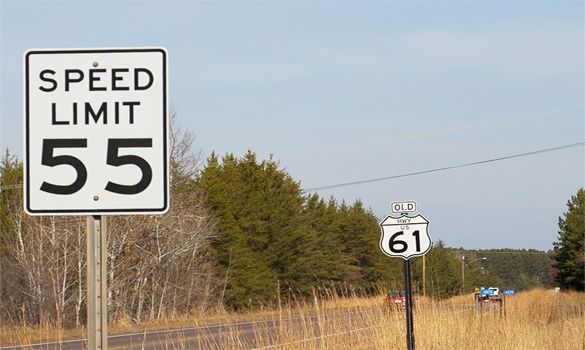 Do you use Google Maps on your Android phone to help plan your trips and then navigate to those destinations?
If so, before long you might be able to use this extremely handy app to help prove your innocence if you have to go to court over a speeding ticket!
Google is currently rolling out an update to Google Maps that will display your actual speed right in the app.
What's more, if the app can determine the speed limit for the stretch of road you're traveling on it can warn you if you happen to exceed the posted speed!
For now Google says the new Speedometer feature is for informational use only and that you should use your car's speedometer to confirm your actual driving speed.
But I can envision a time in the not-so-distant future when Google will start keeping a running log of your car's speed, complete with date and time stamps.
If and when that happens you might be able to use that data to at least cast doubt in the judges's mind about whether you were really speeding or not.
For example, if the police report says you were driving 75 miles per hour in a 65 MPH zone but your Google Maps log says you were driving 64 MPH, the judge just might determine that the ticket must have been written in error.
If over time the speeds determined by Google Maps turn out to be pretty much accurate, that could potentially help put an end to erroneous speeding convictions.
And I can tell you from personal experience that speeding tickets are indeed sometimes written in error.
A few years ago I received a ticket for going 78 in a 65 MPH zone on our local Interstate highway. I know for a fact that I wasn't traveling anywhere near 78 MPH because I had the cruise control set to 65.
Of course cruise controls aren't perfect so it's possible that my speed might have increased by a couple of MPHs while I was going downhill, but that couldn't have been the case in this instance because I was driving on perfectly level ground.
And besides, there's no way my speed would have drifted into the upper 70s even if I had been going downhill.
It just so happened that another car passed me right before I noticed the blue lights in my rear view mirror.
I believe that car was the actual speeder and the state trooper simply got the two of us mixed up by the time he managed to pull onto the highway amongst all the traffic.
Of course there was no way I could have hoped to prove that I wasn't speeding so I simply paid the ticket and moved on, but this new technology in Google Maps just might help prevent things like that from happening in the future.
Of course this is all just speculation on my part. To the best of my knowledge Google doesn't currently keep a running log of your speeds, and I don't know for sure if they ever will.
But given Google's propensity for gathering and storing as much information as possible, I think it's more likely than not that they will.
In the meantime you can use this new "Speedometer" feature in Google Maps to keep a tab on your speed while you're navigating to your destination.
Speedometer is disabled by default but you can easily enable it by following these steps:
1 – Open the Google Maps app.
2 – Tap the Menu icon (it looks like three horizontal lines stacked atop one another).
3 – Scroll down and tap Settings.
4 – Tap Navigation Settings.
5 – Scroll down to the "Driving Options" section and toggle the Speedometer setting to On.
That's all there is to it. The next time you use Google Maps to navigate to a destination you'll see your car's current speed displayed on the screen as you're driving.
Bonus tip #1: This post offers several tips for searching Google like a pro.
Bonus tip #2: Want to make sure you never miss one of my tips? Click here to join my Rick's Tech Tips Facebook Group!
---
Want to ask Rick a tech question? Click here and send it in!
If you found this post useful, would you mind helping me out by sharing it? Just click one of the handy social media sharing buttons below.