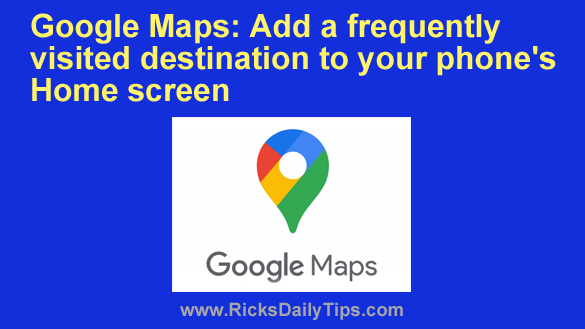 Do you often find yourself using Google Maps to navigate to the same destination?
If so, you probably do the following every time:
1 – Open the Maps app.
2 – Type the destination address into the search box.
3 – Wait for the app to find the best route from your current location to your desired destination.
4 – Tap Start.
Well, I'm going to tell you about a little shortcut that will let you open the Maps app with the route to any frequently visited destination already displayed on the screen, ready for you to start driving! 
All you have to do is place an icon for that destination on your phone's Home screen.
Once that icon is on your device you'll be able get turn-by-turn directions to that destination with just one tap.
Here's how to create a Google Maps Destination icon for your phone's Home screen:
1 – Open the Maps app.
2 – Search for the destination you want to create an icon for, then tap on that address after it pops up in the search results.
3 – Tap Directions.
4 – Tap the three dots located in the top-right corner of the screen, then select Add route to Home screen.
5 – Now you can either tap Add automatically to have the app choose a location on the Home screen for the icon or tap and hold the little "car" icon and place the new destination icon on the Home screen yourself.
That's all there is to it. The next time you need to get directions to that specific destination just tap the Home screen icon you created.
The Maps app will open and automatically calculate the best route for you based on your current starting point.
---