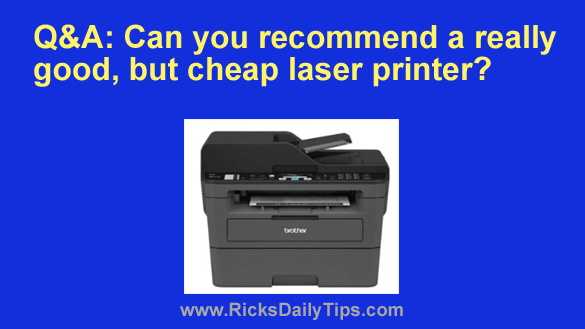 Note: The links in this post are affiliate links.
Question from Marie:  I love your site, Rick. I've been following it for over a year and I've learned a lot from you.
Thanks for all you do to help us tech-challenged older folks!
I'm hoping you can recommend a good, but relatively cheap laser printer.
I've been using inkjet printers ever since they replaced the old dot-matrix printers, but I'm really fed up with having to pay so much for ink cartridges.
I've been wanting to get a laser printer for a long time now but their prices always have always discouraged me from buying one. So I just kept on buying inkjet printers even though I despise them.
I was looking on Amazon last night and noticed that the prices of laser printers have dropped A LOT since I last checked them out (circa 2000 lol).
The thing is there are so many to choose from and I don't want to make a mistake.
Can you recommend a good black and white laser printer that's dependable, costs $200 or less, connects with Wi-Fi, will copy and scan, and also prints fast.
Another consideration would be the cost of toner. I know laser printers will print a lot more pages per cartridge than inkjet printers, but I would still like to avoid having to spend a small fortune on replacement cartridges.
LOL I know that's a lot to ask, but you seem to be pretty good at helping people find what they need. I will really appreciate your help.
Rick's answer:  You're right, Marie. Laser printers are indeed a lot more affordable than they were just a few short years ago.
And guess what? I think I've found just the printer you're looking for…
The awesome Brother MFCL2710DW Monochrome All-In-One Laser Printer seems to meet all of the criteria you're looking for in your next printer.
As of the time of this writing you can buy this printer from Amazon for a bit less than your $200 target price, and it has all the following features:
1 – It's dependable (Brother printers win the PCMag Readers' Choice Award for 14 years in a row).
2 – It's fast (it prints up to 32 pages per minute).
3 – It's has multiple connectivity options (Wi-Fi, Wired Ethernet or USB).
4 – In additions to printing, it will also copy and scan your existing paper documents.
5 – It has both a 50 sheet automatic paper feeder and a 250 sheet paper tray.
6 – It supports wireless Wi-Fi printing from mobile devices.
7 – It comes with free support for the life of the printer (online, phone call or live chat).
8 – You can choose between two competitively priced toner cartridges:
a) The TN760 High-Yield Toner Cartridge prints up to 3,000 pages.
b)The TN730 Standard Yield Toner Cartridge prints up to 1,200 pages.
Note: There are also numerous third-party replacement toner cartridges available as well, several of which have outstanding user ratings.
As you can see, the awesome Brother MFCL2710DW Monochrome All-In-One Laser Printer  indeed meets all of the criteria you're looking for in your next printer.
I hope this helps, Marie. Good luck!
Update from Marie:  Thanks so much, Rick. This is exactly what I was looking for!
---