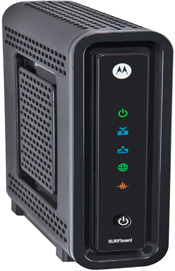 Question from Cal:  I've had the same Internet service through Charter for 4 years with no problems whatsoever.
But a few days ago the strangest thing started happening.
I'll start playing a game and after exactly 3 minutes (I timed it) the Internet will disconnect and it'll say "Attempting to reconnect".
Every time this happens I always have to restart my computer in order to re-establish the connection.
It only does this when I'm playing a game, but it does it with every game I play. It doesn't disconnect at all when I'm using the Internet for other things or watching Hulu.
Any idea what could be causing this?
Rick's answer:  Cal, there are several possible causes for this type of problem, but since it happens at exact 3 minute intervals it could well be an issue with the way the modem is communicating with Charter's network.
I'm guessing you've had the same modem ever since you signed up with Charter 4 years ago.
If that's the case, I recommend that you contact Charter and ask them to upgrade your modem to a newer model. I really believe a new modem will clear this up for you.
I also recommend that you insist they swap out your old modem for a brand new one, not a used or refurbished unit. This post explains why.
I hope this help, Cal. Good luck!
Update from Cal: I called Charter and they came and installed a new modem. And you were right. It fixed the problem. Thanks for your help.
Bonus tip: Want to make sure you never miss one of my tips? Click here to join my Rick's Tech Tips Facebook Group!
If Facebook isn't your cup of tea, I invite you to sign up for my Rick's Daily Tips Daily Update Newsletter.
---
Want to ask Rick a tech question? Click here and send it in!
If you found this post useful, would you mind helping me out by sharing it? Just click one of the handy social media sharing buttons below.