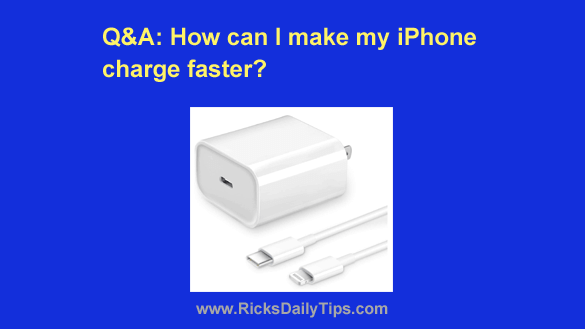 Click here to sign up for my free Rick's Tech Tips Newsletter!
---
Note: The links in this post are affiliate links.
Question from Melanie:  My dad just bought a new iPhone 12 Pro and gave me his year-old iPhone 11.
I've had several iPhones in the past and it seems like they all charged a lot faster than this one. It seems like it takes forever!
My question is how can I get this phone to charge faster? Is there an app I can get or something?
Rick's answer:  Melanie, there is no app you can install that will make your iPhone charge faster.
There are some apps out there that claim to make iPhones charge faster, but they are the modern-day equivalent of snail oil in my humble opinion.
That being said, there are several things you can do that really will significantly speed up your iPhone's charging process:
1 – If you haven't done so already I recommend that you perform a factory reset on your awesome "hand-me-down" iPhone 11.
That's a fantastic phone but there's always a chance that it might have some corrupted iOS files on there that are causing the battery to charge slower than it should.
This Support page on the Apple website explains how to factory reset an iPhone.
Note: I recommend that you skip the part about backing up the phone's data because you're going to want to start fresh with a completely clean install.
2 – Buy a more advanced charger that's capable of "fast charging" your iPhone.
Luckily, the iPhone 11 is one of several recent iPhone models that are capable of "fast charging" with advanced 20 watt fast chargers.
There are lots of quality fast chargers available, but I really like this one due to it's high quality and low price. Another plus is it comes a high-quality fast charging USB-C to Lighting cable (which means you won't have to buy one).
3 – Don't use a wireless charger! Yes, wireless chargers are really convenient, but they are incredibly inefficient at transferring charging power to a device's battery.
If charging speed is more important to you than convenience, use a good wired charger like the fast charger mentioned above and leave the wireless charging to others.
4 – Turn your phone off while it's charging. And by "turn off" I mean actually power it down!
When the phone is powered down the battery won't have to share the incoming charging current with any of the phone's other components. That means every "drop" of juice coming in will go towards charging the battery, which reduces the charging time.
5 – If you'd rather not power the phone all the way down you can simply place it in "Airplane Mode".
While not quite as good a complete power-down, Airplane Mode will still speed up the charging process quite a bit because it turns off all the power-hungry radio circuitry that's inside your iPhone.
6 – Get yourself a good portable charger/power bank like this little gem from iWALK. This is one of my favorite portable chargers for iPhones because of its small size.
You can literally carry this power bank around in your pocket and use it to charge your iPhone any time when you wish, even when there's no electrical outlet available.
Periodically plugging this portable charger into your phone will prevent its battery from getting too low. And that will reduce the charging time required when you do get around to plugging it into its regular charger.
7 – Keep your phone cool while its battery is charging.
Excessive heat will reduce the rate at which your phone's battery can accept a charge. And if the device gets too hot it won't charge at all until it cools off a bit.
Hint: Don't leave your phone sitting in a hot car while it's charging!
Well, that pretty much wraps it up, Melanie. The recommendations I made above should help you reduce your iPhone's charging time to the bare minimum.
I hope this helps. Good luck!
Update from Melanie:  Thanks for answering my question. I was using a wireless charger (the one my dad gave me with the phone). I just ordered the charger you recommended and I look forward to the faster charging.
---
Cick here to ask me a tech question.