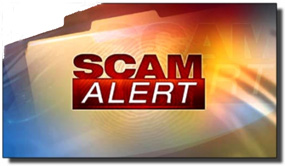 Email scams have been around almost as long as email itself, and the problem seems to be getting worse instead of better.
There's a rather tempting email scam that pops up every now and then, and unfortunately it's making the rounds right now.
This scam is quite easy to fall for because of the way it's being perpetrated. It's called the "Get a Free Gift Card" scam, and there are at least two variations of it that I've seen to date: 
1 – You receive an email saying a gift card you own for a popular online retailer or service is about to expire on you and you need to log in to your account to prevent it from expiring.
The services and retailers usually mentioned are some of the most popular venues on the Internet, so chances are you do in fact have an account with the one mentioned in the email. That makes it very tempting to click. After all, nobody wants to have a valuable gift card expire before it's been used, right?
The problem is these emails are simply a ruse to entice you to enter your login info on a fake login page that looks exactly like the one on the retailer's real website. And while you're there you just might receive a bonus in the form of a computer virus.
2 – In the second variation of the scam you're told that you can earn a free gift card just by taking an online survey or completing some other seemingly legitimate task. The amount of the gift card varies a bit in the fake offer, but it's most often $50.
As above, when you click the link to take the survey, you'll be taken to a fraudulent website where you'll possibly end up giving the scammer your sensitive info and/or downloading a virus.
Bottom line: While some companies do indeed offer real gift cards in exchange for taking a survey or performing some other task, the legitimate offers are rarely made via email. If an offer is legit you'll typically see it after you have logged into your account at the company's real website.
And now for one final warning: The "free gift card" giveaways on Facebook are almost always scams, so be careful on there as well!
Luckily, there's a simple way to prevent falling for these scams regardless of where you encounter them: Ignore any links posted in the "offer"and log into your account directly at the company's real website.
Bonus tip #1: Click here to learn about other scams that are making the rounds right now.
Bonus tip #2: Want to make sure you never miss one of my tips? Click here to join my Rick's Tech Tips Facebook Group!
If Facebook isn't your cup of tea, I invite you to sign up for my Rick's Daily Tips Daily Update Newsletter.
---
Want to ask Rick a tech question? Click here and send it in!
If you found this post useful, would you mind helping me out by sharing it? Just click one of the handy social media sharing buttons below.