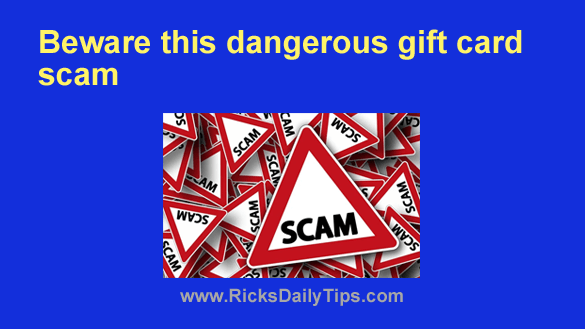 Email scams have been around almost as long as email itself, and the problem seems to be getting worse instead of better.
Add in all the scams that are constantly making the rounds on social media and it's easy to see that fraud is a major problem in today's connected world.
There's a rather tempting email and social media scam that pops up every now and then, and unfortunately it's making the rounds again right now. 
Unfortunately, this scam is quite easy to fall for because of the way it's perpetrated.
It's called the "Get a Free Gift Card" scam, and there are several variations of it that I've seen to date. Here are the three that rear their ugly heads most often:
1 – You receive an email saying a gift card you own for a popular online retailer or service is about to expire and you need to log in to your account and use the gift card in order to prevent it from expiring.
The services and retailers usually mentioned are some of the most popular venues on the Internet, so chances are you do in fact have an account with the one mentioned in the email.
That makes it very tempting to click. After all, nobody wants to have a valuable gift card expire before it's been used, right?
The problem is these emails are simply a ruse to entice you to enter your login info on a fake login page that looks exactly like the one on the retailer's real website. And while you're there you just might receive a bonus in the form of a computer virus.
2 – In the second variation of the scam you're told that you can earn a free gift card just by taking an online survey or completing some other seemingly legitimate task. The amount of the gift card varies a bit in the fake offers, but it's most often $50.
As above, when you click the link to take the survey, you'll be taken to a fraudulent website where you'll possibly end up giving the scammer your sensitive info and/or downloading a virus.
3 – A post shows up in your Facebook Newsfeed or on one of your other social media accounts claiming that you'll receive a gift card for use at a major local or online retailer if you'll simply like and share the post.
Pretty tempting indeed. After all, could there possibly be an easier way to qualify for a valuable gift card?
The problem is, there will be no gift card coming your way if you decide to take the bait and end up liking and sharing the post.
This is simply a variation of the "bait post" scam I warned you about in this post.
In a nutshell, the scammer creates a new Facebook page and then uses that account to create several scammy "bait posts" that are guaranteed to attract a ton of likes and shares.
After several of the scam posts have gone viral and attracted a ton of likes and shares (building up lots of what we call "social proof"), the scammer either sells the now-popular page to another scammer who'll use it to scam everyone who has "Liked" the page with fraudulent offers or use the page himself to scam as many people as possible.
Bottom line: While some companies do indeed offer real gift cards in exchange for taking a survey or performing some other task, the legitimate offers are rarely made via email or in a social media Newsfeed.
If an offer is legit you'll typically see it after you have logged into your account at the company's real website or visited the company's official (and verified) social media page.
Bottom line: There's a simple way to prevent falling for these gift card scams regardless of where you encounter them…
Simply ignore any links posted in the "offer" and log into your account directly at the company's official website to see if the offer is mentioned there. If it isn't, you can rest assured that the message you received or the post you saw is a scam.
---