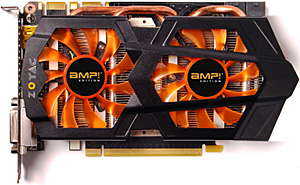 Question from Lonnie K.:  I paid a guy I know to build me a custom PC around a Gigabyte Intel H77M-D3H motherboard. We had a disagreement and now he won't talk to me or give me any advice.
What I want to do is add a stand-alone video card. I found a really good deal on an "open box" ZOTAC GeForce GTX 660 Ti but before I buy it I want to make sure it'll work with my motherboard. Will it?
Rick's answer:  Lonnie, that video card/motherboard combo will work fine together, but there are a couple of other things to consider before you buy it:
1 – Is the system's power supply capable of handling the added power needs of the video card? The manufacturer of the ZOTAC GeForce GTX 660 Ti recommends at least a 600 watt PSU, and many custom built computers have extra drives and other add-ons that also pull juice from the power supply. Unless your PC has just the bare essentials inside the case you might need a 750 watt PSU.
2 – Is there enough physical space inside the case and amongst the existing components for the video card to fit comfortably while allowing for decent air flow around the card? This particular video card takes up the same amount of space as two regular size expansion cards.
Bottom line: As long as your system meets both of the requirements listed above, your ZOTAC GeForce GTX 660 Ti video card and Gigabyte Intel H77M-D3H motherboard should play quite nicely together.

---
Do you have a tech question of your own for Rick? Click here and send it in!