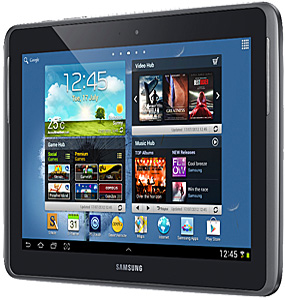 Question from Randy S.:  I recently found out that my Samsung Galaxy Note 10.1 tablet has an external microSD slot. I found a 4GB card in my desk that I had once used with a digital camera that no longer works, so I took it out and plugged it in.
The tablet recognizes the SD card as being installed, but I get an error message every time I try to save any files to it. Can you tell me what I need to do to get it to work?
Rick's answer:  Randy, you'll need to format the microSD card with the tablet's Format utility before you'll be able to use it. Here's how:
1 – Insert the microSD card into the slot on the side of the Galaxy Note 10.1.
2 – Tap the Settings icon.
3 – Tap Storage.
4 – In the right-hand pane, scroll down and tap Format SD card.
5 – On the next screen, tap the Format SD card button to confirm that you want to delete all the data on the card and format it.
After the format process is completed you should be able to copy files from your Samsung Galaxy Note 10.1 tablet to the microSD card (and vice versa) with no problems at all.
Update from Randy:  Thanks Rick! Now it's working like a champ!
---
Do you have a tech question of your own for Rick? Click here and send it in!
Need expert computer help? Click here to read about the services that I provide.