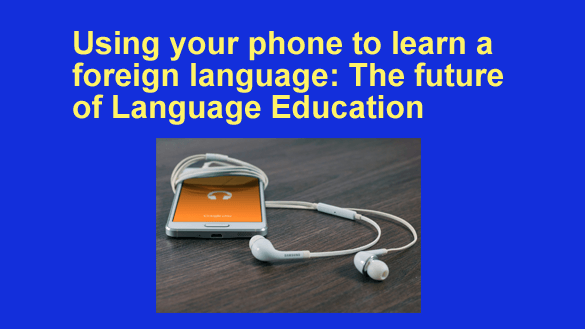 Learning a new language has never been more critical in today's fast-paced world. Whether it's for career advancement or personal growth, the ability to speak a foreign language can open doors and create new opportunities.
Fortunately, with the rise of mobile technology, language learning has become more accessible than ever before.
In this article, we'll explore the benefits of using your phone to learn a foreign language and provide five examples of language-learning apps changing how we approach language education. 
The Benefits of Learning a Foreign Language on Your Phone
Learning a foreign language on your phone has several advantages over traditional classroom learning. For one, it allows you to learn at your own pace, whenever and wherever you want.
With mobile language learning apps, you can study on your commute to work, during your lunch break, or even in bed before you go to sleep. This flexibility means you can fit language learning into your busy schedule, making it easier to stay motivated and committed.
Another benefit of mobile language learning is the ability to track your progress and receive feedback in real time. Many language learning apps use gamification and other interactive features like live English conversation with tutors or audio dictations to keep learners engaged and motivated. These features allow you to monitor your progress, set goals, and receive immediate feedback on your performance.
With the rise of mobile technology, language learners now have access to various mobile applications that allow them to learn a new language on the go. These 5 apps allow users to learn at their own pace and convenience, whether during their daily commute or waiting in line for their morning coffee:
1 – Promova – The Ultimate Language Learning App
Promova is a cutting-edge language-learning app that uses advanced technology to make language learning more accessible and practical. With Promova, you can learn a foreign language from the comfort of your own home using your phone or tablet.
The app offers a variety of interactive features, including gamification, chatbots, and personalized lessons tailored to your specific needs and interests.
In addition to traditional language learning materials like vocabulary lists and grammar exercises, Promova also offers a range of multimedia content, including videos, podcasts, and news articles. These resources provide learners with a more immersive and engaging learning experience, helping to improve retention and recall.
2 – Duolingo – The Most Popular Language Learning App
Duolingo is one of the most popular language learning apps on the market, with over 500 million users worldwide. The app uses gamification and interactive features to make language learning fun and to engage.
Users can choose from various languages, including Spanish, French, German, and more. In addition, Duolingo offers a variety of lessons and exercises, including listening, speaking, and writing exercises, as well as vocabulary lists and grammar lessons.
3 – Babbel – A Personalized Learning Experience
Babbel is another popular language-learning app that offers a personalized learning experience. The app uses AI technology to adapt to the learner's individual needs and interests, providing customized lessons and feedback.
Babbel offers a range of courses, including beginner, intermediate, and advanced levels, and specialized courses in topics like business and travel.
4 – Rosetta Stone – The Industry Standard
Rosetta Stone is a language-learning app that has been around for over 25 years. The app offers courses in over 20 languages and is known for its immersive learning experience.
Rosetta Stone uses a unique approach to language learning, focusing on immersion and contextualization to help learners acquire language skills naturally. In addition, the app offers a variety of features, including speech recognition, live tutoring, and interactive lessons.
5 – Memrise – A Fun and Engaging Learning Experience
Memrise is a language-learning app that uses gamification and interactive features to make learning fun and engaging. The app offers courses in over 20 languages, as well as specialized courses in topics like cooking and travel. In addition, Memrise uses various multimedia resources, including videos, podcasts, and flashcards, to help learners improve their language skills.
The Role of AI in Language Learning: Enhancing Learning Outcomes with Smart Technology
Artificial intelligence (AI) is revolutionizing the language learning industry, providing learners with personalized and adaptive learning experiences.
AI-powered language learning tools use machine learning algorithms to analyze user data, assess their performance, and provide personalized feedback to help them improve their language skills. This technology can also help identify areas where learners need additional support and provide targeted resources to address those gaps.
One example of AI in language learning is Promova's language assessment tool, which uses natural language processing to evaluate a learner's proficiency in a specific language. The tool assesses the user's reading, writing, speaking, and listening skills, providing detailed feedback and recommendations on improving their language abilities.
AI-powered language learning apps also use speech recognition technology to provide learners with real-time feedback on their pronunciation, helping them improve their speaking skills. These tools are also designed to be engaging and fun, using gamification techniques to motivate learners and keep them engaged throughout the learning process.
As AI technology advances, we can expect to see even more innovative and effective language-learning tools to help learners achieve their language-learning goals faster and more efficiently.
The Future of Language Education: Modernizing the Classroom with Mobile Technology
The future of language education is being shaped by modern mobile technology. Mobile devices such as smartphones and tablets have become ubiquitous daily, and the educational sector has not been left behind. These devices offer unique opportunities to revolutionize language education by allowing learners to access language learning content and tools anytime and anywhere.
With mobile technology, language learners can practice their skills on the go, get instant feedback, and collaborate with others worldwide.
Furthermore, mobile technology can facilitate personalized learning experiences that cater to each learner's individual needs and preferences. Educators can create a dynamic and engaging learning environment that enhances learners' motivation and success by incorporating mobile technology in language classrooms. As mobile technology continues to evolve and expand, the possibilities for language education are limitless.
Conclusion
In conclusion, using mobile technology to learn foreign languages is rapidly becoming the future of language education. With the ubiquitous nature of smartphones and tablets, language learners can access learning materials and tools anytime, anywhere. The ability to personalize learning experiences and receive instant feedback through mobile technology has revolutionized the language learning process.
Furthermore, mobile technology allows learners to practice language skills in various contexts and connect with other learners and speakers from around the world. As mobile technology continues to evolve, we can expect to see even more innovative and effective language-learning solutions being developed. The future of language education is exciting, and mobile technology is at the forefront of this revolution.
---