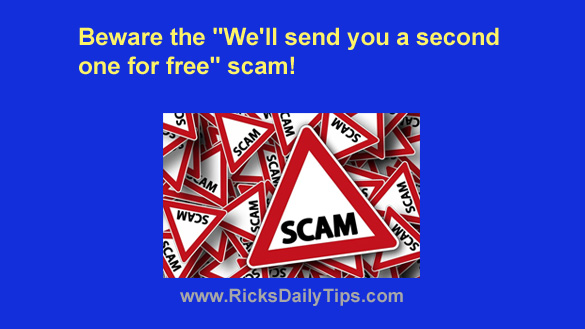 I'm sure you've seen those commercials on TV where an overly excited pitchman extols the virtues of a great new widget.
You know, the one that's guaranteed to make your life better "or we'll give you your money back!"?
Whether it's the awesome "liquid rubber in a can", the amazing "twist-o-matic kitchen utensil" or some other "this widget will so change your life" thingy, the pitches are usually pretty much the same: 
"Buy one widget and we'll throw in a second one for free – just pay a separate fee!" (or just pay separate processing and handling!)
Now I won't attempt to pass judgement on the quality of the items being hawked in those ads.
Some of them might truly be useful while others might not be.
After all, "usefulness" is a subjective thing that can only be determined by the folks who actually use a given item.
But I can tell you that the "buy one, get one free" angle is almost always a scam.
Sure, they'll send you "two widgets for the price of one" if you only consider the purchase price, but the purchase price isn't where most of their profit comes from.
In reality, most of the profit from these deals is hidden in the inflated (and often downright bogus) "processing and handling" fees.
The life-changing $6 item they're willing to sell you for only $29.95 (the profit margins on things like these are typically around 400%) and the second one they "throw in for free" could easily end up costing you $40 or more by the time you add in the bloated "separate processing and handling" fee.
Is that really a bargain? Well, that's a tough question to answer, and only you (and you alone) are qualified to answer it.
If the item works as described, truly adds value to your life, AND you consider it to be worth the total cost you'll have to pay in order to buy it and have it delivered to your home, then the answer is probably yes.
Some of the items being hawked on TV really are good products that truly can make your life better in some way. Which brings us to an important question…
Even if you believe a product will serve a useful purpose, will the benefits it could provide make it worth paying as much as double the stated purchase price for the "buy one get one free" deal bundle, especially when a significant portion of the price you'll end up paying is for a duplicate item that you might never even need or use?
I'm not saying all those ads hawking two amazing widgets for the price of one are necessarily bad deals. I'm just saying it makes sense to consider what you'll actually end up having to pay for the package as a whole, including the cost of the second "free" item.
And if you pay close attention, the commercials don't usually state the amount of the "separate fee". You don't typically receive that info until after you've supplied your credit card info and you're ready to click the "Complete Transaction" button.
While any given product could itself be legit, the "We'll send you a second widget free!" angle is almost always a scam since you won't truly get a second item for free.
What's more, that second item could end up being completely useless to you if just one is all you will ever actually use.
By the way, the companies offering these deals realize that consumers are catching on because they rarely mention the word "free" in these offers anymore. Now they often say something like "You'll also receive a second widget – just pay a separate fee!"
That doesn't necessarily mean the overall deal isn't worthwhile, but it's definitely something that should be considered when deciding whether to make the purchase or not.
And always remember, the "get a second widget free" angle is virtually always a scam because that "free" second item isn't truly free at all.
The old adage still applies…Buyer beware!
---
Never miss a tip!  Click here to sign up for my free Daily Tech Tips Email Newsletter!