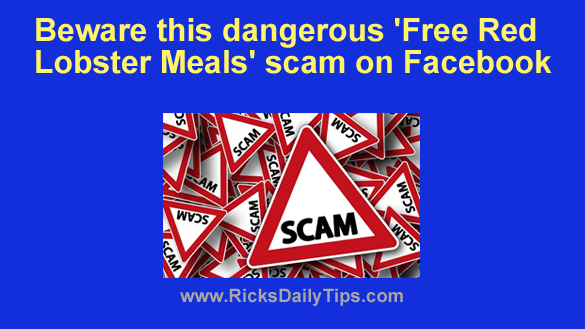 As you probably know, scammers love targeting the 2+ billion worldwide users on Facebook, and unfortunately many of the scams can be quite tempting.
These scams typically piggyback off the success of large corporations because just the name of the company alone tends to lend an air of legitimacy to the fraudulent "offers".
A perfect case-in-point is the "Free Red Lobster Meals" scam that's making the rounds on Facebook right now. 
In a nutshell, the scam posts claim Red Lobster will send a voucher for two free meals to every Facebook user who shares and comments on the scam post before the end of the current month (they change the month as needed to keep the scam "current").
Here's a screenshot of one of the fraudulent posts: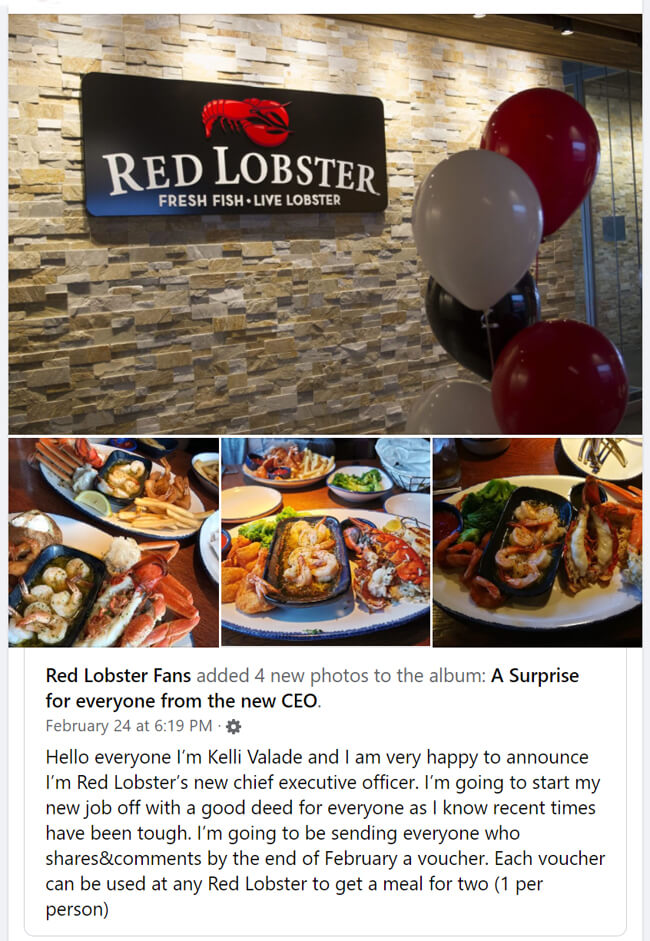 Looks pretty tempting, right? Problem is, nothing in the post is real. Here's how you can tell…
First of all, the post I screenshotted was posted by a fake Facebook account called "Red Lobster Fans", not the verified Red Lobster page you 'll find here (notice the blue verification checkmark):
https://www.facebook.com/redlobster
While you're on the official "blue check" Red Lobster page, see if you can find any mention of this "free meals" offer. (Spoiler alert: You won't.)
Second, the audience for this post is set to "Custom".
That's a huge red flag because any legitimate offer from a company like Red Lobster would be set to "Public" so everyone could see it.
And finally, if you visit the "Red Lobster Fans" Facebook page (which I refuse to link to) the pinned post will take you to a Google form where you can "sign up" for your free meals voucher.
That's another huge red flag since a company the size of Red Lobster would never use a Google form to collect customer info.
This scam is actually a "two-fer" combo deal for the scammers as it accomplishes two of their goals with one post:
1 – The Likes and Shares on the post build up the reputation of the fraudulent page, which then enables the scammers to use the page to scam even more people.
This is basically a variation of the "Feel Good Posts" scam I wrote about here.
2 – The information they collect via the Google form is sold to other scammers who will flood your inbox with all kinds of other offers.
Bottom line: Always remember that no company can afford to give away valuable products and services to literally anyone and everyone who Likes and Comments on a Facebook post. They just can't, and they won't.
If you have already taken the bait and provided your info via the Google form there really isn't much you can do about it at this point. Just be prepared to start receiving tons of SPAM and other types of junk in your inbox.
---