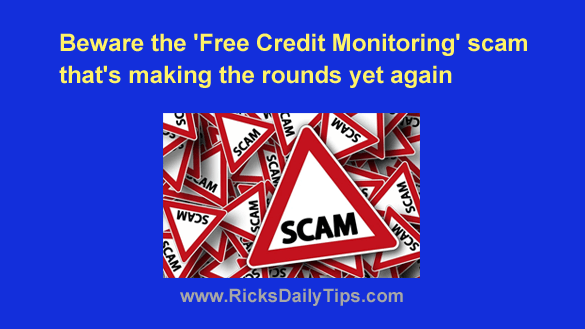 I'm sure you've heard about all the hacks that are taking place these days.
It seems like every time we turn around there's another company reporting a major hack that potentially compromised the personal and financial information of their customers.
Some of the most recent hacks resulted in some of the largest security breaches in history, and unfortunately scammers who weren't even in on those attacks soon began taking advantage of the fear and confusion they created.
One of the most common of these scams are fake emails that appear to be from the "Big 3" credit reporting agencies offering free credit monitoring services.
I recently started receiving messages from readers letting me know they're receiving these emails yet again, and I've received at least half a dozen of them myself over the last couple of days.
Luckily, this is one of the easiest scams to spot and avoid. All you have to do is delete any email offering free credit monitoring services without even reading it unless you know there was a recent breach and you have an account with the affected company.
If you do happen to open one a fraudulent email by mistake, DO NOT click any links or open any attachments contained within it!
If you receive an email that you believe to be legitimate because a company you have an account with was indeed hacked, I still recommend contacting the company's Customer Support personnel to verify that the email is indeed legit.
If it is they'll explain what you need to do in order to protect yourself.
Of course if you have signed up for a legitimate credit monitoring service on your own you'll be receiving legitimate emails from that company.
Just be careful when reading even those emails as some of the fakes being sent out look extremely authentic.
As always remember this: It's best to completely ignore links in emails even when you believe the email to be on the up-and-up.
Instead, log in to your account with that company directly. If you need to take some action there will almost always be a notice waiting for you after you have logged in to your account.
---