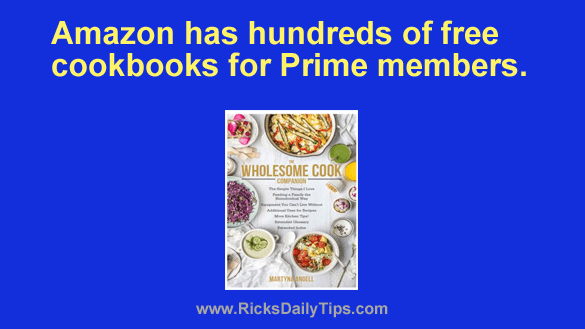 Note: The links in this post are affiliate links.
If you enjoy cooking, chances are you also enjoy collecting cookbooks. And as you well know, growing your cookbook collection can be rather expensive.
But thanks to Amazon, adding great cookbooks to your personal collection doesn't have to cost you a cent if you have a Prime membership.
The secret? Prime members can download hundreds of great cookbooks directly from Amazon and pay absolutely nothing for them.
Yes, it's true, and there's absolutely no catch. In fact, you don't even have to own a Kindle eReader in order to use your free cookbooks!
All you'll need is to have the free Kindle Reading App installed on your computer or mobile device.
The wide variety of cookbooks available on Amazon cover every kind of food you can think of.
Whether it's tasty desserts, tantalizing appetizers or delectable full meals of any variety, if you want to cook it, you'll likely find free cookbooks filled with great recipes and directions for preparing it.
Click here to check out the amazing selection of awesome Kindle cookbooks that are available to Amazon Prime members at no charge. You're sure to find several that pique your interest!
---