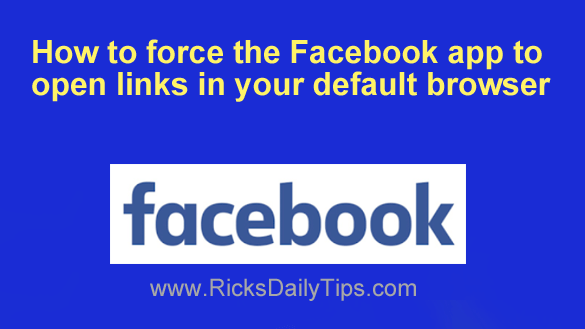 If you're a regular Facebook user, you know their developers love making changes to the way their mobile app works.
Just about the time we get used to something, they go and change it on us.
For me, one of the most irritating changes they've ever made is forcing external links to open in the in-app browser instead of my device's default browser.
I'll admit that the in-app browser is fast, but it lacks much of the functionality of a typical stand-alone web browser. But there's more to the story…
Facebook decided to make links open inside the app instead of an external browser for two reasons:
1 – When you open a link in the app it prevents you from leaving Facebook's website. More time spent on their site means higher advertising rates.
2 – When you open a link in the app it's a lot easier for Facebook to track your online activities and gather more information about your browsing habits, both of which have the potential to boost their advertising revenue even more.
Personally, I don't like either of those reasons so I have the apps on my devices set to open links in the device's default browser instead of Facebook's in-app browser.
If you'd like to make that change too, you're in luck. It's actually quite easy. Just follow the steps below:
Note: 1: Unfortunately, due to restrictions Apple places on third-part apps, the procedure below won't work on an iPhone or iPad. It only works on Android devices.
Note 2: Facebook seems to love removing this setting, only to add it back later.
If you follow the steps below and don't see the "Links open externally" setting, that means Facebook removed it yet again.
Check again in a few days and you'll likely see it again. Once you have it set the way you want it it should stay that way even if Facebook removes this option from the Settings again.
1 – Launch the Facebook app and log into your account.
2 – Tap the Menu icon (it looks like three horizontal lines).
3 – Scroll down and tap Settings & Privacy.
4 – Tap Settings.
5 – Scroll down and tap Media.
6 – Scroll down top the "Links open externally" setting and check that box.
That's all there is to it. From now on the Facebook app will load all external links in your device's default web browser instead of the slimmed-down (and very nosey) in-app browser.
Bonus tip:  Have you ever accidentally deleted a message you received via Messenger and desperately wanted to get it back?
Well, you can. This post explains how.
---