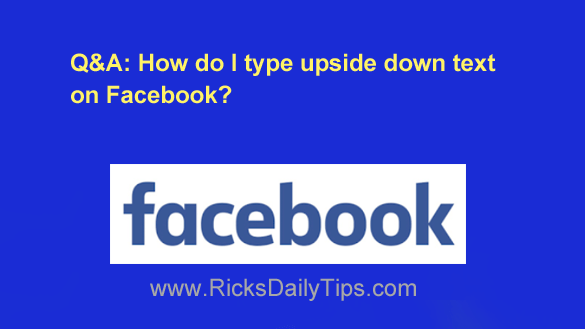 Question from Chandra:  I see people writing upside down text on Facebook all the time.
I'd like to give it a go myself but I can't figure out how they do it. Can you tell me?
Rick's answer:  I sure can Chandra, and it's literally as easy as doing a simple "Cut and Paste" operation.
The text isn't actually flipped on Facebook itself, but rather on a third-party website that was set up solely for that purpose.
There are many such "text flipping" websites to choose from, but the one I'll use for this post is aptly named TextUpsideDown.
Just follow the steps below to "type upside down" on Facebook (or any other website, computer program or app for that matter):
1 – Pay a quick visit to TextUpsideDown website.
2 – Type the text you want to display upside down into the Original field.
You should now see the text you entered displayed several different ways in the boxes below, including upside down.
3 – Triple-click on the upside down text and to highlight it.
4 – Right-click on the highlighted text and then click Copy.
5 – Go back to Facebook (or wherever) and paste the copied upside down text into a status update, a comment box or anywhere else that you want it to appear.
That's all there is to it, Chandra. Good luck!
---