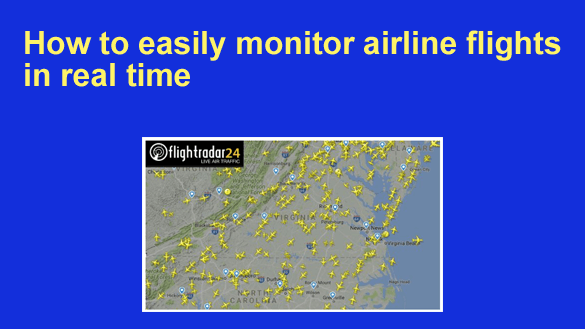 Have you ever watched an airliner fly over your house and wonder where it came from and where it was headed?
Or perhaps you've waited in an airport terminal on pins and needles for what seemed like an eternity because the flight your loved one was on was long overdue?
Well, now you can visit an amazing website called FlightRadar24 and monitor many passenger flights in real time as you literally watch the planes "fly" across the map on their way to their destinations!
Monitoring a particular flight is easy. Just follow the steps below: 
1 – Click and drag the map to the region where you expect the plane to be.
2 – Hover your mouse over each plane icon until you see the flight number of the plane you're interested in tracking.
3 – Click on that plane and a side panel will open giving you numerous details about the flight.
Using FlightRadar24 is a fun, easy way to monitor airline flights. The data you see on the screen is compiled in real time by an army of volunteers who monitor the radio communications and GPS data of the planes flying through their local area.
Note: In order for a plane to show up on the map, it must be equipped with ADS-B technology (don't ask me what that is because I haven't a clue).
That means there's a small chance that the flight you wish to monitor might not show up on the screen.
The above being said, the flight you're interested in will probably be monitored since the vast majority of all passenger aircraft are equipped with ADS-B technology and more are being equipped with it every day.
Hey, it's a free service so it's worth a try, right!
Visit FlightRadar24 and check it out. I'd love to hear what you think!
Note: Have an Apple iOS device or an Android device? Click the Apps link at the top of the page to install the FlightRadar24 mobile app!
Bonus tip: This post explains how to quickly find an appropriate meeting point halfway between two locations.
---