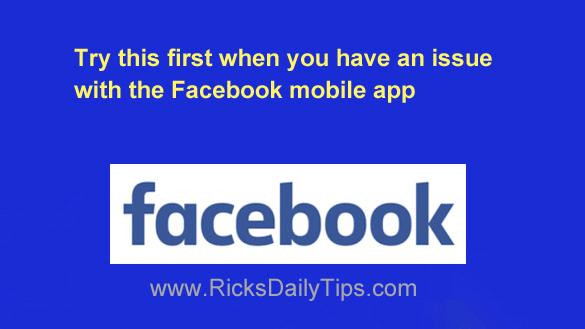 Billions of people use the Facebook mobile app on their smartphones and tablets.
Unfortunately, the Facebook app can be one of the most frustrating apps you'll ever use.
For example, you probably experience at least one of these issues from time to time: 
Your Facebook newsfeed fails to display properly in the app (parts of the page were missing or otherwise out-of-kilter).
You are unable to interact with your friends' posts by liking them, sharing them or leaving a comment.
You are unable to upload a photo or create a new post or status update.
The app keeps logging you out of your account, forcing you to log back in every few minutes.
Those are just a few of the most common issues users have when using the Facebook app. There are countless others that also pop up from time to time.
Luckily, it's usually pretty easy to clear up most any issue you'll ever have with your Facebook app.
The next time something goes haywire with your mobile Facebook experience, try the following:
1 – Log out of your Facebook account and close the app.
2 – Shut down the device and restart it.
3 – Open the Facebook app and log back into your account.
I've found that this simple procedure will clear up the vast majority of issues folks have with the Facebook app.
However, if there's a problem with the app itself a simple logout, shutdown and reboot procedure won't fix it.
When the above procedure doesn't resolve your issue, the next step is to remove the Facebook app completely and reinstall it from the app store.
Reinstalling the app from scratch is what I refer to as "the nuclear option", but it really isn't as bad as it sounds. It only takes a minute or two to remove the app and reinstall it.
And by the way, you won't need to open a new Facebook account just because you reinstalled the app. Simply open the newly installed app and log back in using your existing login credentials.
Now I must mention a couple of caveats…
1 – None of the steps detailed in this post will clear up an issue Facebook is having with their website.
Some Facebook issues are the result of something going haywire with the Facebook website itself, and nothing you can do on your device will fix those "back-end" issues. All you can do is wait for Facebook to fix the problem on their end.
2 – None of the steps detailed above (including reinstalling the app) will fix an issue that was caused by a change you made in the Facebook settings.
If a settings change had unintended consequences you'll need to go back into the settings screens and change the altered setting back to the way it was before the issue arose in order to clear it up.
Bottom line: The Facebook mobile app can be finicky at times, but most issues can be resolved fairly quickly by following the steps listed above.
Bonus Tip: Read this post for tips on protecting your Facebook account from hackers.
---