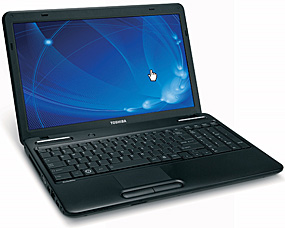 I have worked on several Toshiba laptops recently that seem to share a common problem: The function keys that lower and increase the screen brightness (usually Fn+F6 and Fn+F7) have stopped responding.
If the brightness controls on your Toshiba laptop are non-responsive, the procedure described below will most likely fix it:
1 – Shut down the laptop and unplug all cables and external adapters, including the AC power adapter. 
2 – Shut the lid, turn the laptop over onto its back, then remove the battery.
3 – Turn the laptop back over, then press and hold the power button for a full 15 seconds.
4 – Turn the laptop over again, then reconnect the battery and AC power adapter, in that order.
5 – Press and release the power button, then begin tapping the F2 key until the Setup utility loads. Note: The key to press in order to enter Setup might be different on your particular model.
6  – Once the Bios Settings screen has loaded, search the sub-menus for an option to reset the BIOS settings back to the factory defaults. Select that option, save your changes, then exit the BIOS utility and reboot the computer.
7 – After Windows has finished loading, try adjusting the screen brightness again.