Do you suspect that someone might be using your Wi-Fi network without your knowledge and permission?
If they are, you really need to know about it so you can boot them off and lock down your network ASAP!
"Piggybackers" can slow down your network and make your devices appear sluggish and unstable.
Even worse, they could potentially cause you some pretty serious legal problems if they're using your network to break the law in some way. 
Luckily, there's a fantastic free mobile app called Fing that will tell you right away exactly how many devices are currently connected to your network, and what types of devices they are.
You'll know how many computers, printers, mobile devices and such your family is using so it'll be obvious if someone else is using it too.
Just download the app to your iOS or Android device and run it. Almost immediately you'll be presented with a list of all the devices that are connected to your Wi-Fi network.
Fing will display the network name as well as the IP address, MAC address and description of every device that's currently connected to it. Check out the screenshot below: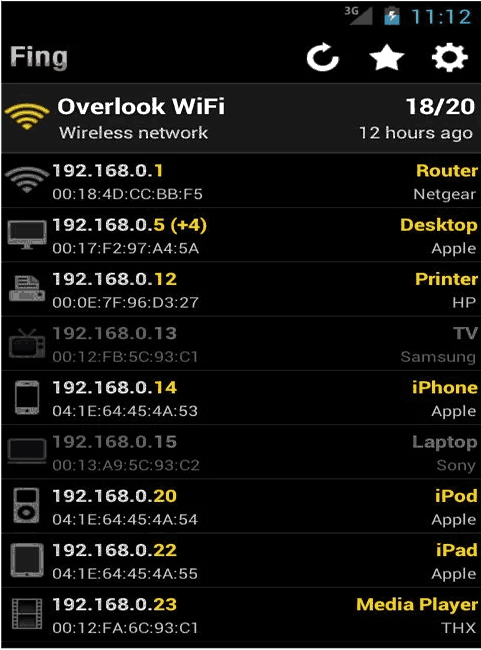 There's a ton of other useful info that can be mined with Fing as well.
Apple iOS users can download the Fing app from iTunes. Android users will find it in the Google Play Store.
Bottom line: This is a must-have tool for anyone who maintains a Wi-Fi network at home or at the office since "piggybackers" can drag down your network and even potentially put you in legal jeopardy.
Fing will tell you if someone's using your network without your permission so you can boot them off and take measures to lock down your network!
Bonus tip #1: This post explains the best way to extend your Wi-Fi network to all parts of your large home.
Bonus tip #2: Want to make sure you never miss one of my tips? Click here to join my Rick's Tech Tips Facebook Group!
---
Want to ask Rick a tech question? Click here and send it in!
If you found this post useful, would you mind helping me out by sharing it? Just click one of the handy social media sharing buttons below.