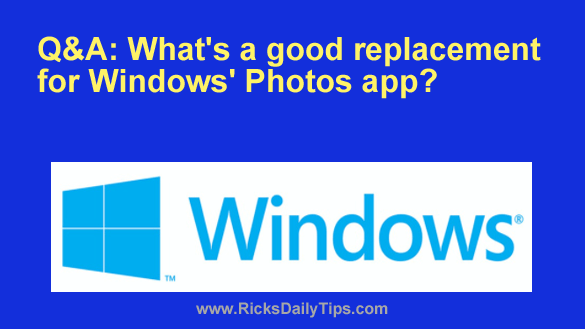 Question from Barbara:  I bought a new computer with Windows 11 on it and after using it for a while I've decided that I despise the Photos app.
Can you recommend a good replacement for it?
Free would be great but I don't mind paying if I have to in order to get a good one. 
Rick's answer:  Barbara, I agree that the Photos app leaves a lot to be desired due to its dearth of features and capabilities.
Like you, I long ago made the decision to find a good alternative for it.
After trying several apps I ultimately decided on FastStone Image Viewer.
This app has a ton of powerful features yet it's extremely easy to use and understand. What's more, it also happens to be the fastest photo app I've ever used.
And yes, it's free!
If you open a folder in FastStone you'll immediately see thumbnails of all the images in that folder.
Double-click on any image and that image will automatically open in full screen mode.
Once an image is displayed full-screen you can easily navigate from image to image by pressing either the Left or Right arrow key on your keyboard.
Alternatively, you can right-click on either a thumbnail or a full-screen image to display a context menu that's simply loaded with useful options.
One of my favorite features of FastStone is the ability to quickly create a slideshow of the images in a folder, complete with accompanying music.
Bottom line: FastStone Image Viewer is now my Photos app of choice when I'm using a PC with Windows 10 or 11. I have a feeling it'll quickly become your favorite as well once you give it a try.
Click here to download FastStone Image Viewer from OlderGeeks.
I hope this helps, Barbara. Good luck!
---