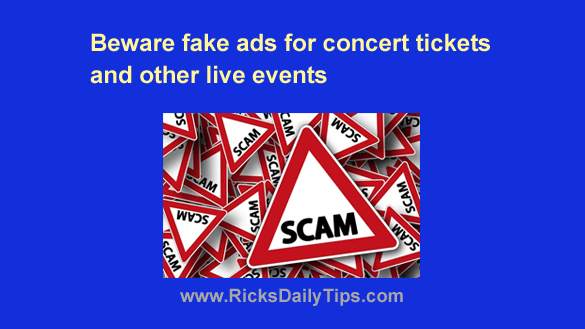 After a year of being on virtual lock-down, things are finally beginning to get back to normal in many states.
That has plenty of folks wanting to get out of the house and take in a concert or attend some other long-awaited public event.
Unfortunately, all of that pent-up demand has created a new opportunity for the scammers of the world.
A spate of fake ads hawking deeply discounted tickets for concerts, professional sporting events, theme parks and a wide variety of other public events have begun showing up on social media sites and landing in millions of email inboxes.
And that's in addition to the numerous ticket scams that are being promoted via Facebook's built-in "Events" feature.
As usual, taking the bait and responding to these fake ads can have a number of detrimental effects, including all the following and more:
1 – The scammer will end up with your banking info, which they'll use to attempt to clean out your checking account.
2 – The scammer will use your credit/debit card info to order a bunch of merchandise, all at your expense.
3 – The scammer will end up with enough of your personal and financial info to successfully assume your identity and open new (and fraudulent) financial accounts in your name.
4 – You'll fall victim to any other misdeed the scammer can come up with in order to separate you from your money and cause you as much grief as possible.
Bottom line: If you see an ad for any kind of event ticket on social media, ignore it unless you can verify that it was posted by the verified account of the band or event themselves.
If one of these "offers" hits your email inbox don't even consider the possibility that it could somehow be legitimate. The odds are close to 100% that it isn't.
Just remember the following and you'll stay safe:
1 – With all the pent-up demand for concerts and other events, we're unlikely to see any deeply discounted tickets on the market for a good while.
2 – The safest way to get event information about and/or tickets to a concert or other event is by visiting the band or event's official website, the official website of the venue hosting the event or one of the major online ticket vendors like TicketMaster or StubHub.
The old saying still applies: "If it sounds to good to be true, it probably is!"
---