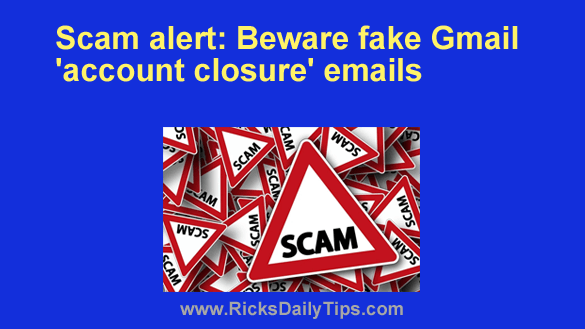 There's a new email scam making the rounds right now and it's catching a lot of Gmail users off-guard.
As usual, the text of the email varies a bit, but the message conveyed is always the same.
The email claims to be from Google in response to a request to close your Gmail account.
In a nutshell, the email claims you need to either confirm or rescind a request you submitted for Google to close your Gmail account and delete all of your messages.
You're asked to click a link in the email that will supposedly take you to the Google login page where you can sign in to either confirm or rescind the deletion.
The problem is, the entire email is nothing more than a phishing scam that's attempting to trick you into your entering your actual Google login information into a form on a fake Google login page.
The fact that you never really requested to have your account closed in the first place should be a huge red flag.
If you comply and attempt to log in you'll end up handing over control of your entire Google account and all of your Google services to a scammer.
Bottom line: As always, it's best to never respond to any unsolicited email that asks you to click a link to visit a login page. Those are always scams – no exceptions.
If you receive an unsolicited email message similar to this from Google or any other company, instead of clicking the link in the email simply visit the company's official website directly and log in to your account from there.
If there's a pending action that you need to take you'll be alerted to that fact after you're successfully logged in.
---