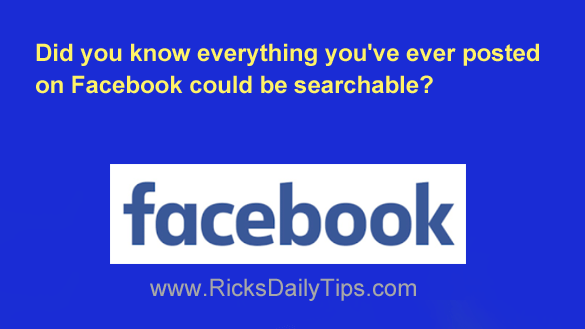 Like my tips?  Click here to sign up for my free Daily Tech Tips Newsletter and you'll never miss one!
---
You might not be aware of this, but Facebook's search feature is quite powerful and extremely thorough in the way it conducts its searches.
As a matter of fact, virtually every public post, comment and photo you have ever placed on Facebook will come up in another user's search results unless you have your privacy settings configured to prevent it.
Many users won't really care that their entire Facebook "life" is easily searchable by the public, but if you value your privacy or have posted things in the past that you now regret posting you might want to check your privacy settings to ensure that nothing is set to "Public".
And by the way, even if you had some fairly restrictive privacy settings in the past, there's no guarantee that they're still set that way now. Facebook has a way of changing such things without our knowledge.
I said everything I said above just to say this…
It's best to always assume that anything and everything that's ever been posted to your Facebook account can be searched for and viewed by any other Facebook user unless you have your privacy settings set to either "Friends" or "Only Me".
Which brings up another point…
Do you have one or more Facebook "friends" who aren't really your friends? Chances are you do.
That's why it's wise to be very judicious about the things you choose to share with your "friends" on Facebook.
After all, anything and everything you post with a privacy level of "Friends" can easily be found by anyone and everyone on your Friends List via a simple search.
And don't forget: Create a habit of checking your account's privacy settings on a regular basis to make sure they haven't changed. Just a friendly heads-up…
Bonus tip: This is probably a good time to mention that privacy really doesn't exist on Facebook. This post explains why.
---
If you found this post useful, would you mind helping me out by sharing it?
Just click one of the handy social media sharing buttons below. Thanks a bunch!