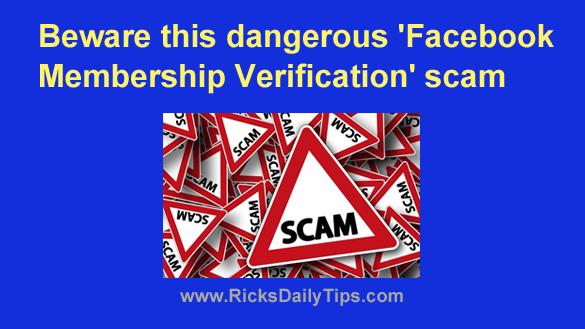 Well, there's yet another dangerous Facebook-related scam making the rounds right now.
I know, I'm shocked too!
As usual, there are several variations of this scam.
They seem to primarily be spreading via fake SMS text messages and emails.
However, I've seen a few reports of it being spread via IMs on Twitter as well (which is interesting since this is a Facebook-related scam that has nothing to do with Twitter).
The fraudulent messages all appear to have been sent by Facebook, and they typically claim you've used your account to do something that goes against Facebook's "Community Standards".
The supposed infractions vary a bit, but most of the messages simply claim that "one of your posts has been reported" without providing any details about the supposed infraction.
The common thread between all of these messages is they all instruct you to click a link in the message in order to "verify your Facebook membership".
The problem is these messages weren't sent by Facebook at all. They were actually sent by a scammer.
If you take the bait and click on the link in the message you'll be asked to enter the login credentials for your Facebook account along with some other personal information the scammer can use to steal your identity.
And to top it all off, your device will probably get infected with malware.
There are several strong clues that these text messages, emails and IMs are fraudulent:
1 – Facebook would never send such a warning via text message or email. And they certainly wouldn't do it by contacting you via a competing service such as Twitter!
If they truly need for you to verify any account-related info they'll notify you directly the next time you attempt to use or sign into your account.
2 – Most of these messages contain words that are spelled incorrectly and/or were written using poor grammar, both of which are obvious red flags.
3 – The link provided in the message isn't for a URL on Facebook.com. Why would they send you to a third-party website in order to verify your information on Facebook?
4 – Posts are "reported" on Facebook every single day, and when that happens the users are notified of the report right on Facebook, never by text message or IM.
What's more, there is usually no penalty imposed for a first offense other than a written warning unless the post consisted of something horribly egregious.
Bottom line: This is a very dangerous scam and you need to avoid it if it makes its way to one of your inboxes.
---