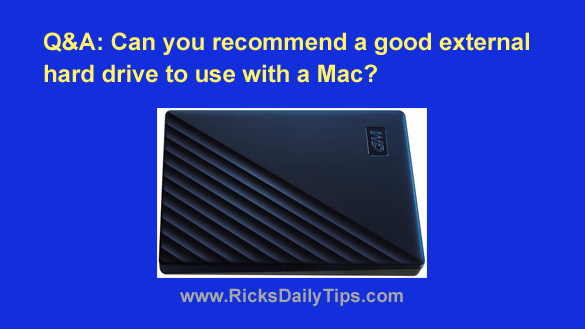 Note: The links in this post are affiliate links.
Question from Maria:  Hi Rick. I recently purchased a MacBook Air with the M1 processor.
I am new to MacBooks so I am on a learning curve even though I have both an iPhone and an iPad.
I wanted to buy an external hard drive for my processor but have no idea what type I should get. I would like it mainly to back up my iTunes library and photos. Any suggestions would be appreciated.
I have an external hard drive that I have had for at least 10 years and used with my PC but it seems that the MacBook cannot open it.
After reading up on how to transfer that information, it was just too much for me, so I decided to only open that on my husband's computer and get a separate one for the MacBook Air.
Thank you so much, I am a huge fan!
Rick's answer:  Thanks for the very kind words, Maria. Much appreciated!
Macs in general are awesome, but they do come with a learning curve for folks who are used to Windows machines.
That being said, I have a feeling you'll be up-to-speed with your new MacBook Air before you know it!
Truth be told, most any external hard drive will work with a Mac as long as it has a compatible connector on the end of the cable. I actually answered a question about this very topic the other day.
As you found out, getting an external drive connected to a Mac (or MacBook Air in your case) is only half the battle. The drive also has to be formatted for use with Apple's macOS operating system.
Formatting an external drive to work with a Mac isn't difficult, but I almost always recommend purchasing a drive that's already formatted that way.
There are several great external hard drives that come pre-formatted for use with a Mac, but I prefer to use (and always recommend) drives made by Western Digital/WD.
A great example is this 2TB WD Passport. It comes pre-formatted for Macs and it has a USB-C cable already in the box.
Simply remove the drive from the packaging and plug it into your MacBook Air using the USB-C cable and you'll be all set.
The drive linked to above is a 2TB model which is probably large enough for most situations. If you believe you'll need more storage you can opt for either the 4TB or 5TB model.
I hope this helps, Maria. Good luck!
---
Never miss a tip!  Click here to sign up for my free Daily Tech Tips Email Newsletter!