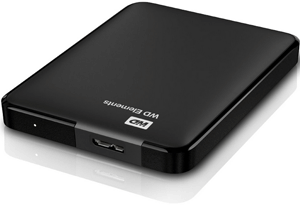 Question from Linda S.:  I have a Dell 6430u Ultrabook and a Superspeed USB 3 Dell Docking Station. I am trying to decide on an external drive to back-up all my data and photos continuously.
Could you suggest an external USB hard drive that would be good to use?
I'm also worried about power overload for the docking station because when I plugged in a LaCie external drive I received a warning that it overloaded the USB port. Can you advise about that as well?
Rick's answer:  Linda, you can use any 2.5 inch external USB 3.0 hard drive
(#ad) with your Dell docking station. Just plug the drive into one of the docking station's USB 3.0 ports and it'll work just fine.
And don't worry about the power issue. By using a low-power 2.5 inch drive, you won't have to worry at all about the docking station's USB 3.0 port being able to supply enough power to the drive.
The reason you received the power overload warning with the LaCie drive is because it is a 3.5 inch drive, and those draw a lot more current than 2.5 inch drives.
Amazon has an excellent selection of 2.5 inch USB 3.0 external hard drives. Click here
(#ad) to check them out.
I hope this helps Linda. Good luck!
---
Do you have a tech question of your own for Rick? Click here and send it in!