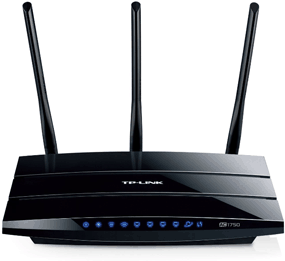 Question from Karren:  My cable modem and wireless router are sitting on a table in my living room, which is located on the first floor near the end of my house.
I have a fairly large home and the Wi-Fi signal is extremely weak in a couple of the second floor bedrooms.
My grandchildren stay with me several nights every month, and I'd like for them to be able to use the Wi-Fi while they're in their bedrooms.
If I bought a second wireless router would I be able to use it to extend the existing router's Wi-Fi signal to cover the entire second floor?
Rick's answer:  Yes you can Karren, and that would be a very good solution to your problem. But in order to do that, you'll need some way to physically connect one of the LAN ports on your existing router to a LAN port on the second router.
Assuming that you can easily run a cable between the two floors, the cheapest way to connect the two routers together is by using a long Ethernet patch cable. If it's convenient to do so, simply place the second router in a central location on the second floor of your home, then run a long Ethernet cable between the two routers.
But be aware that running the cable between the routers might me quite a chore, and possibly a relatively hefty expense if you have to hire someone else to do it for you. After all, running the cable between floors will likely require drilling some holes and snaking the cable through walls, the ceiling and the upstairs floor.
A better option in my opinion is to use an inexpensive powerline networking kit. These kits are very easy to install and use. Here's how:
1 – Place the second router in a central location on your home's second floor.
2 – Connect one of the powerline network adapters to an open LAN port on each router.
3 – Plug both adapters into the nearest electrical outlets.
Regardless of which method you use to connect the two routers together, the setup on the second router will be the same. Simply disable DHCP on the second router, then set that router's SSID (network name) and encryption settings (including the encryption key/password) to match the encryption settings on the first router.
I hope this helps Karren. Good luck!
Note: The links in this post are affiliate links.
---
Do you have a tech question of your own for Rick? Click here and send it in!