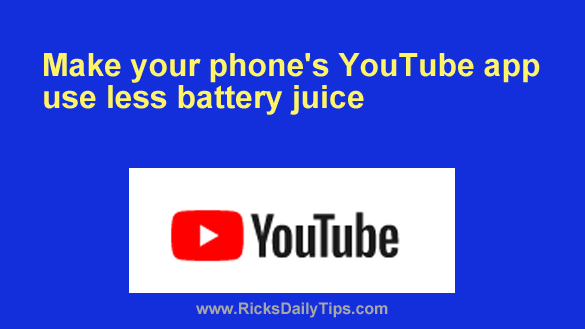 The YouTube app is one of the most-used smartphone apps out there. In fact, chances are you're using it right now.
I spend at least a couple of hours each day using my YouTube app for a combination of work and pleasure (but mostly work) and I know how power-hungry the YouTube mobile app can be.
If you also make extensive use of your phone's YouTube app, there's a simple settings change you can make that will force it to sip less juice from your phone's battery… 
All you have to do is turn on "Dark mode" in the app's Settings.
Dark mode helps conserve your battery charge because the darker your phone's screen, the less juice the screen will draw from the battery.
Want to give it a try? Here's a short video that shows how to turn on Dark Mode in your phone's YouTube app:
Note: I recommend that you watch this video at full screen by clicking the little "square" icon in the lower-right corner of the video after it begins playing.
Do you prefer following written instructions? Here you go…
1 – Open the YouTube app and tap your tiny profile picture in the top-right corner of the screen.
2 – Tap Settings.
3 – Tap General.
4 – Tap Appearance.
5 – Select the Dark theme option.
That's all there is to it. Your YouTube app should now start drawing less battery juice, extending the time between battery charges.
If you try Dark mode for a while and decide you just don't like it (admittedly, some people don't), simply repeat the steps above and turn it back off.
---