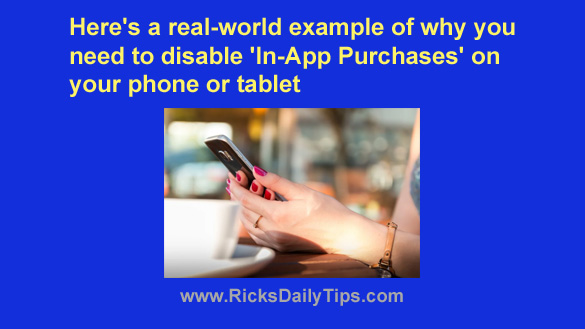 I've written in the past about the dangers of leaving "In-App Purchases" enabled on your smartphone or tablet.
Truth be told, it really is quite easy to rack up some serious charges by making accidental purchases while using your favorite apps or playing a game.
And of course allowing a child or another family member use your device increases that risk substantially.
Well, this story in the New York Post details an interesting (and very sad) situation that shows just what can happen when "In-App Purchases" are left enabled on a device.
Long story short, a six year old boy used to his mom's iPhone to play a game called Sonic Forces.
No biggie there. Such things happen all the time.
However, in the course of playing the game the youngster ended up making a whopping $16,000 worth of "In-App Purchases"!
How did this happen? Well, according to the mom her son knew the game was just make-believe, and not real.
Therefore, he thought the money he was spending for the "In-App Purchases" was actually part of the game and therefore it was make-believe too.
When his mom received the sky-high bill she believed it to be a case of fraud.
She alerted her bank about the situation and they agreed to initiate a fraud investigation, and of course the investigation ultimately revealed that there was no fraud involved since her son actually made the purchases in question.
Apple has a policy of refunding charges that were made under circumstances like this, but unfortunately by the time the bank got around to completing their investigation the 60 day window for reporting the unauthorized charges to Apple had closed.
And since she missed the 60 day reporting window Apple refused to refund the charges.
Bottom line: If there is any chance whatsoever that you or someone else might accidently make these types of "In-App Purchases" I strongly recommend that you follow the steps in this post to disable "In-App Purchases on your phone and/or tablet.
The few seconds it will take to change the setting could well end up saving you a lot of money and grief in the end.
---
Never miss a tip!  Click here to sign up for my free Daily Tech Tips Email Newsletter!