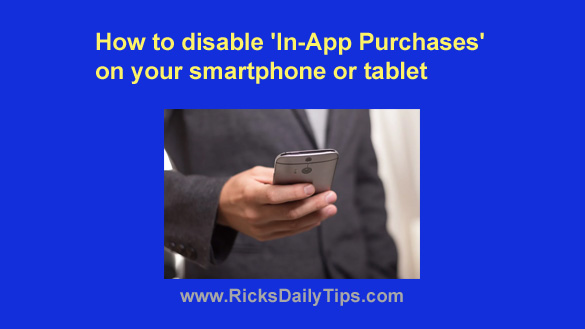 We often hear stories about folks who received a whopping bill for "In-App Purchases" made from within iPhone and Android apps and games.
And of course those huge bills are almost always unexpected.
In a nutshell, "In-App Purchases" allow the folks who create "free" apps to make money off of them by offering extra features and capabilities for a fee.
You can indeed use the app for free as promised, but if you want to use the extra features and capabilities you'll have to fork over some cash.
Sometimes a device's owner will make one of these optional purchases by accident, but far too often they're made by kids, either on their own device or a device owned by a parent.
If you want to make sure this never happens to you, simply disable all "In-App Purchases" on your own device(s) and/or on your child's device(s).
Just follow the steps below for the type of devices you and your family use.

If you have an iPhone or iPad:
1 – Open the Settings menu.
2 – Tap Screen Time.
3 – Tap Content & Privacy Restrictions and toggle that setting to On if it isn't already set that way (the slider should be green).
4 – Tap iTunes & App Store Purchases.
5 – Tap In-app purchases and then select Don't Allow.

If you have an Android phone or tablet:
Note: Your Android device won't allow you to completely disable "In-App Purchases".
However, you can instruct the Play Store app to require the user to enter a password before being allowed to make an "In-App Purchase" which should prevent accidental purchases or purchases by anyone who doesn't know your password.
Just follow the steps below to set it up…
1 – Open the Play Store app.
2 – Tap the your avatar photo located in the top-left corner of the screen.
3 – Tap Settings.
4 – Tap Authentication.
5 – Tap Require authentication for purchases.
6 – Select For all purchases through Google Play on this device.

That's all there is to it. From now on no one will be able to make an "In-App Purchase" on this particular phone or tablet.
Bonus tip: This post explains how to quickly find the warranty status of your iPhone or other Apple device.
---