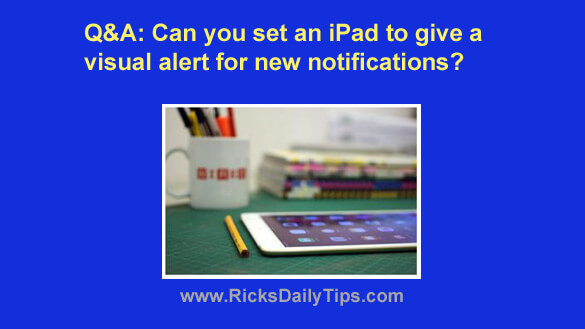 Question from Gloria:  Hi Rick. I hope you can help me find a solution to a problem we're having with my husband's iPad.
He recently started using Facebook to keep in touch with the grandkids and some of our other family members.
The problem is he's completely deaf and he can't hear the notification alerts when someone sends him a message on the iPad.
Is there any way to have it light up with every new notification?
Rick's answer:  Hi, Gloria. First of all, congrats to your husband for using Facebook to correspond with your family members. It really is a game-changer for many folks!
To answer your question, you can easily force your husband's iPad to emit a bright flash of light every time a new notification is sent.
And just so you'll know, you can do it with an iPhone as well! Just follow the steps below:
1 – Tap the Settings icon.
2 – Tap Accessibility.
3 – Tap Audio/Visual.
4 – Scroll down and toggle the LED Flash for Alerts setting to On.
That's all there is to it. From now on your husband's iPad will emit a bright flash of light every time he receives a notification.
By the way, iOS (the operating system that runs on Apple mobile devices) has several other accessibility features that your husband might find useful. You'll find all the details on this page on the Apple website.
I hope this helps, Gloria. Good luck to you and your husband!
Update from Gloria:  Your solution is perfect, Rick. Thanks for your help!
---