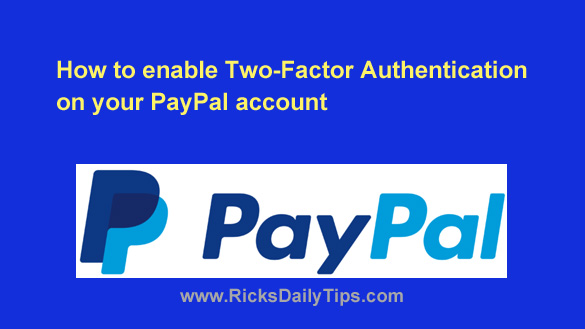 Two-Factor Authentication is an awesome feature that adds an almost insurmountable second layer of security to any online account that supports it.
And luckily, most online services do support it nowadays.
In a nutshell, Two-Factor Authentication works by requiring anyone trying to log into an account to enter a security code received via either an SMS text message or an authenticator app before being allowed to log in to your account.
That makes your account a lot more secure because anyone trying to log into it would need physical access to your mobile phone in order to receive the security code.
Like most other popular online services, PayPal supports two-factor authentication. Just follow the steps below to enable it on your account:
Note: You'll need to access your PayPal account via a web browser on a laptop or desktop computer in order to enable Two-Factor Authentication. For whatever reason, PayPal doesn't offer the option to set it up via the mobile app.
1 – Log into your PayPal account.
2 – Click on your name on the right side of the blue bar at the top of the page, then select Profile Settings from the drop-down menu.
3 – Click the Update link at the end of the 2-step verification field and follow the prompts as they appear.
After you've successfully enabled Two-Factor Authentication you'll need to retrieve the security code from the text message or authenticator app every time you attempt to log in to your PayPal account
To complete the login process, simply enter the security code into the text box provided on the login page.
That's all there is to it. Good luck!
---
Never miss a tip!  Click here to sign up for my free Daily Tech Tips Email Newsletter!