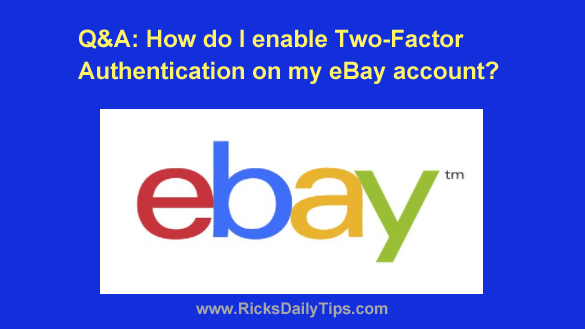 Question from Freddie:  I know you're always recommending that we enable Two-Factor Authentication on all our accounts.
Can you tell me how to enable it on my eBay account?
Thanks for your help.
Rick's answer:  You're right, Freddie. I do strongly recommend enabling Two-Factor Authentication (2FA) on every account that supports it.
The reason I'm such a firm believer in 2FA is because it adds another "hoop" a hacker will need to jump through in order to break into a 2FA-protected account.
Luckily, most websites and services do support it nowadays, and that includes eBay.
Just follow the steps below to enable Two-Factor Authentication on your eBay account:
1 – Log into your eBay account.
2 – Click on your username in the upper left-hand corner of the eBay window, then click Account settings.
3 – Find the "My eBay" section and click on the Sign in and security link.
4 – Click the Edit link next to "2-step verification", then confirm your password when prompted to do so.
Note: You'll now be asked to choose whether to receive your login codes via the eBay app or SMS text messages.
I strongly recommend that you choose to receive them via the app because it's more secure.
5 – Once you have decided how you wish to receive your login codes, click the Get started button for that option.
6 – Follow the prompts as they appear to finish setting up Two-Factor Authentication on your account.
That's all there is to it. Once you have finished enabling Two-Factor Authentication you can breathe a little easier knowing that your eBay account is a lot more secure than it was before you enabled it.
I hope this helps, Freddie. Good luck!
---
Never miss a tip!  Click here to sign up for my free Daily Tech Tips Email Newsletter!