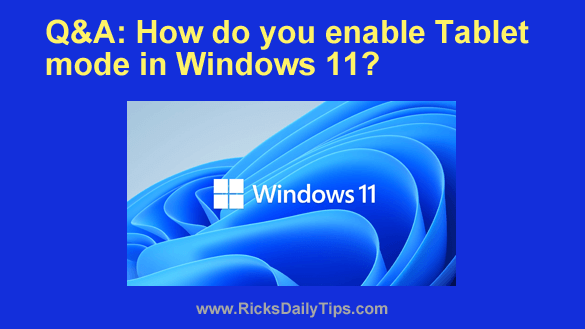 Note: The links in this post are affiliate links.
Question from Jeannie:  Hi, Rick. I need a little help with a Windows 11 issue if you don't mind.
When I had Windows 10 on my laptop I could put it onto Tablet mode and I could do a lot of what I needed to do just by touching icons and links and other stuff on the screen.
That was a blessing to me because I have severe arthritis in my hands and that makes it really hard to use the mouse and keyboard.
I recently allowed the update to replace Windows 10 with Windows 11 and now I can't figure out how to enable Tablet mode on it. Everything is so different!
Can you please tell me how to enable Tablet mode in Windows 11? 
Rick's answer:  I'm afraid I have a bit of bad news for you, Jeannie.
You won't be able to enable Tablet mode on your laptop because Microsoft removed it from Windows 11.
Well, that's not completely true. Tablet mode is still available in Windows 11, but only on "Two-In-One" or "Convertible" laptops that have either a detachable keyboard or a screen that folds all the way back to allow the machine to function as a tablet.
Just be aware that even on those devices there is no "switch" or menu option for enabling Tablet mode. It's enabled automatically when you either fold the screen all the way back or detach the keyboard.
Now all of the above being said, you do have a couple of options:
1 – You can back up your photos and other files to an external USB hard drive and then reinstall Windows 10 from scratch.
Any computer repair shop can do that for you, or if you prefer, you can do it yourself.
Just use the Media Creation Tool on this page to create a Windows 10 installation USB flash drive, then boot the machine from that drive and install Windows 10.
This would be the cheapest way to go, especially if you're able to do it yourself (it'll be free except for the cost of the blank USB flash drive).
2 – You can purchase a new "Two-In-One" or "Convertible" Windows laptop.
I wish I could have given you better help on this one, Jeannie. I wish you the very best.
---