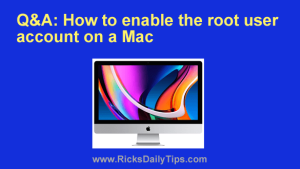 If you have a Mac and your user account has administrator privileges, you're able to access things and perform actions that aren't available to users that don't have admin accounts.
But even accounts with admin privileges are limited in the things they can access and do on a Mac.
However, there's a special user account with the username "root" that you can use to access and make changes to any area of the file system that isn't write-protected by your Mac's System Integrity Protection system. 
There are many scenarios in which it would be helpful to have root privileges, including this common one from the business world…
Let's say your business has a disgruntled ex-employee who refuses to hand over the password for a user account containing important work-related files.
If you sign into your Mac as the root user you'll be able to access those important files without having to actually sign into that user account.
You can think of a Mac's root user account as sort of a "super-user" account that will let you access most anything on the machine that you really need access to.
The root account is disabled on Macs by default, but you can easily enable it on yours. Just follow the steps below:
1 – Press the Command+Space Bar key combination to launch the Spotlight utility.
2 – Type the words directory utility into the search box, then click on Directory Utility after it pops up in the search results.
3 – Click the Lock icon in the bottom-left corner of the window, then enter your password when prompted to do so.
4 – Select Edit from the menu bar, then select Enable Root User from the drop-down menu.
5 – Type in a new password to use when you're logging into the root user account, then click OK.
That's all there is to enabling the root user account on your Mac. You should now be able to access most anything that's stored on the machine, but you'll need to be signed in to the root account in order to do so. Here's how to sign in as root:
1 – Sign out of your regular user account.
2 – On the log-in screen, click Other.
3 – Type the word root for the username and enter the password you selected for the newly-enabled root user account.
You're now signed into your Mac as the root user. That means you now have full access to everything on the machine that you really need access to.
Important:  As mentioned above, being signed in as the root user gives you the ability to access things and make changes to the system that simply aren't available to other users, including admins.
That means you could potentially make changes that cause issues with system performance, stability or security.
And truth be told, you could even make changes that render the machine unusable.
For that reason, I strongly recommend that you only sign in as the root user when you actually need to access something that isn't available when you're signed into your regular account. Just sayin'.
Well, that pretty much wraps it up. You now know how to enable and use the root user account on your Mac. Just make sure you use it judiciously – and only when you truly need it.


---