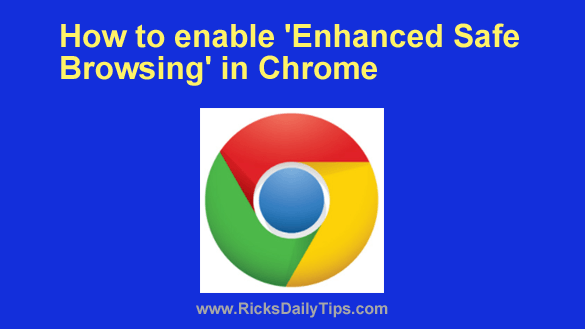 Google Chrome is the world's most popular web browser, and it isn't even close.
There are several very good reasons why Chrome is used by so many people, one of which is the strong security that Google has built into it by default.
But did you know there's a setting you can change in Chrome that will make your Internet activities even more secure? 
It's called "Enhanced Safe Browsing" and it only takes a few clicks (or taps) to turn it on.
Once it has been enabled, Chrome will provide faster and stronger protection against dangerous websites and malicious browser extensions and downloads.
What's more, it will also warn you if any of the passwords you use have been compromised via data breaches.
As you can see, Enhanced Safe Browsing can really beef up your online security when you're using Chrome.
I'll explain how to enable it in a moment, but first I really need to tell you this…
Important: If you enable Enhanced Safe Browsing, Chrome will start sending your browsing data to Google so they can analyze it and use the info gleaned from it to beef up your security (and everyone else's security as well.)
You need to carefully consider whether you want Google to have access to that information before deciding whether to enable Enhanced Safe Browsing or not.
Truth be told, there's no way to know exactly how Google might use the info Chrome sends back to them.
It's probably all on the up-and-up, but if knowing Google will collect your browsing history makes you a little uneasy you might want to take a pass on this otherwise awesome feature. Just sayin'.
Now that that's out of the way, if you feel comfortable with Google collecting and analyzing your browsing history and you want the enhanced security this optional feature will provide, just follow the steps below for the device you're using to turn Enhanced Safe Browsing on.
If you use Chrome on a laptop or desktop computer:
1 – Open your Chrome browser.
2 – Click the Customize and control icon in the top-right corner of the window (it looks like three vertical dots).
3 – Click Settings.
4 – In the left-hand pane, click Privacy and security.
5 – In the right-hand pane, click Security.
6 – In the "Safe Browsing" section, select Enhanced protection.
If you use the Chrome app on a mobile device:
1 – Open the Chrome app.
2 – Tap the three dots in the top-right corner of the screen.
3 – Tap Settings.
4 – Tap Privacy and security.
5 – Tap Safe Browsing.
6 – Select Enhanced protection.
That's all there is to it. If you enabled Enhanced Safe Browsing, Chrome will now start going the extra mile in regards to keeping you safe online.
To finish up, I'll just say this…
While Enhanced Safe Browsing is very effective at protecting you against various online threats, it isn't perfect.
I recommend that you still take great care in deciding which websites to visit, which files to download, which browser extensions to install and which links to click.
In short, think of Enhanced Safe Browsing like you think of the airbags in your vehicle. It can help keep you safe if you venture into an unsafe corner of the Internet, but it can't guarantee that you won't still get hurt.
---