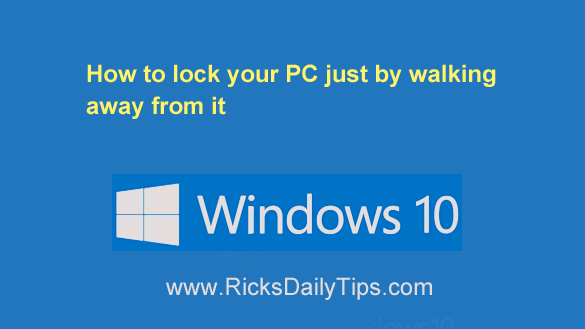 Do you lock your PC every time you leave the room to keep prying eyes from seeing what you're working on or to prevent others from messing with your computer?
If you only use a computer at home the answer is probably no, but if you use one at work chances are you do.
In fact, many companies actually require their employees to lock their PCs when they leave the room for whatever reason.
If you work for one of those strict employers you probably worry that you might forget to lock your machine sometime and end up getting reprimanded for the lapse.
Well guess what? Windows 10 has a feature called Dynamic Lock that will automatically lock your PC every time you get up and leave the room.
Dynamic Lock works by pairing your mobile phone with your Windows 10 PC via Bluetooth (which obviously means your PC must have Bluetooth capability for it to work).
Once this feature is enabled your computer will go into Locked mode every time it senses that your mobile phone is no longer in the immediate area.
That means as long as you take your phone with you when you leave you'll never have to worry about accidentally forgetting to lock your computer again.
It's pretty easy to enable Dynamic Lock, but it's a multi-step process…
First, you'll need to turn on Bluetooth on both your phone and your PC.
Next, you'll need to pair your phone with the PC by following the steps below.
Start by preparing your phone:
1 – Launch the Settings app and select the Bluetooth setting.
2 – Make sure your PC is listed as a nearby Bluetooth device. If it isn't, double-check to make sure you have Bluetooth enabled on both the PC and the phone.
Now you're ready to use your PC to pair the two devices via Bluetooth:
1 – Press the Start button and then type the word bluetooth.
2 – Select Bluetooth and other devices from the list of search results.
3 – Click Add Bluetooth or other device.
4 – Once it appears in the list, click on your mobile phone, then click Next.
5 – Compare the Passcode that's displayed on the computer screen with the one that's displayed on the phone. If they match, click Yes on the PC and then click Pair on the phone.
And finally, follow these steps to enable Dynamic Lock on the PC:
1 – Click the Start button.
2 – Click the Settings icon (it looks like a "gear" or "cog").
3 – Click Accounts.
4 – Click Sign-in options.
5 – Check the box beside Allow Windows to automatically lock your device when you're away.
That's it – you're done! Now that Dynamic Lock is enabled your PC should automatically go into Locked mode every time you leave the immediate area with your phone!
Bonus tip: This post explains the fastest way to shut down your Windows 10 PC.
---
Never miss a tip!  Click here to sign up for my free Daily Tech Tips Email Newsletter!