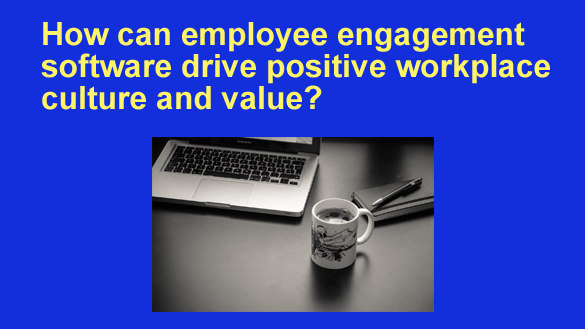 Workplace culture and values are essential for an organization's success. A strong work culture, where employee engagement is high, can significantly increase morale and productivity, resulting in an overall positive effect on the business.
But how can employers create such a culture? Well-designed employee engagement software can be crucial in achieving this goal by providing the tools necessary to drive strong positive workplace cultures based on core values.
This post will explore why employee engagement is essential and its effects on workforce productivity and team dynamics. We will also provide examples of effective tactics organizations have used to promote improved sentiment between employees using technologies like employee engagement software.
Join us as we look closer at the undeniably powerful impact of well-implemented strategies in driving better workplace cultures with more team alignment!
Facilitates open communication and promotes transparency and open dialogue
Employee engagement software, such as Motivosity, facilitates open communication between employees and managers, which helps to create a positive workplace culture.
Not only can this type of software provide helpful communication tools like instant messaging, but it also encourages collaboration among team members. It makes sure that everyone is on the same page when it comes to their responsibilities and goals.
This type of transparency builds trust within the company, allowing everyone to focus on achieving their objectives without feeling overwhelmed or out of touch with management decisions. With competitive Motivosity pricing options, organizations can easily invest in employee engagement software and ensure their workplace is a positive environment for all employees.
Encourages recognition to promote positive reinforcement
Employee engagement software can be a helpful tool that encourages the recognition of individuals within a workplace. Being seen and appreciated for their efforts can help employees feel valued and a part of the team. It is vital to drive employee morale while promoting workplace values such as accountability, collaboration, and respect.
Allowing colleagues to recognize each other occasionally via the software by showing appreciation or giving virtual rewards helps create a positive work atmosphere that strengthens relationships and allows for more effective communication.
Promotes collaboration to foster a sense of community
Employee engagement software can be invaluable in promoting collaboration and forging a sense of community among team members.
By introducing tools that allow team members to collaborate on projects, share ideas, and collaborate on goals, this software offers a platform for employees to come together towards the same objective. This encourages employees to take ownership and become more invested in shared tasks and goals, creating a greater sense of pride within the organization.
Collaboration allows individuals from different departments and backgrounds to unite around issues of common interest. With everyone striving towards the same goal, a strong workplace culture is formed that embodies shared values and commitment.
Supports professional development
Employee engagement software can help organizations provide employees with the tools and resources to support professional development.
By offering various learning opportunities, managers can encourage employees to develop their skills to become more effective team members. Not only does this support valued workplace principles such as continuous learning and innovation, but it also gives employees a sense of purpose. It fosters an environment where personal accountability is encouraged.
Utilizing employee engagement software to build a culture that supports continued growth and development gives businesses an invaluable leg up in today's competitive marketplace.
Helps promote health and wellness
Employee engagement software is an effective tool for promoting health and wellness within and beyond. Such software can provide resources like fitness challenges, mental health awareness, and easy-to-follow nutrition tips.
By reinforcing values such as work-life balance and self-care and keeping employee well-being at the forefront of decision-making, these programs help ensure that employees are physically and mentally healthy. By providing tangible employee benefits, workplaces can create a positive culture that values better well-being so everyone can be their best selves at work.
Employee engagement software can have a profoundly positive impact on workplace culture and values. By fostering open communication among teams, providing opportunities for recognition, driving collaboration within departments and across the organization, and promoting professional development, these solutions can create an environment that encourages innovation and personal accountability.
Moreover, by emphasizing health and wellness initiatives and programs, organizations can ensure their employees remain physically and mentally healthy. Ultimately, by implementing an employee engagement solution, organizations can facilitate greater progress toward building a positive workplace culture centered around core values of collaboration, respect, enthusiasm, and community.
---