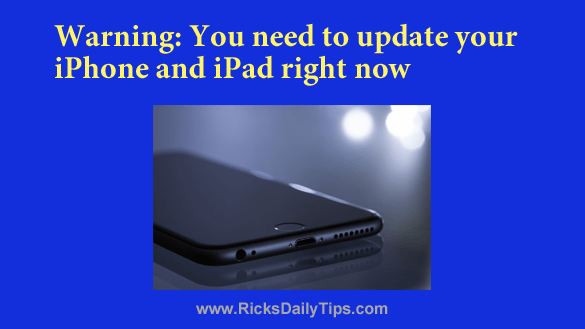 Click here to sign up for my free Rick's Tech Tips Newsletter!
---
Apple has just released an emergency update to iOS 14.8 and iPadOS 14.8 to patch a very serious security flaw.
In a nutshell, this flaw allows NSO Group's really nasty Pegasus spyware to infect Apple devices that are running one of the affected versions of iOS.
While this flaw only apparently affects the specific versions of iOS 14 mentioned in Apple's security alert, I recommend that everyone who has updated an Apple device to iOS 14 go ahead and install any updates that are available just to be safe.
If you're interested in learning about this flaw in more detail you'll find plenty of in-depth technical info right here.
As always I recommend that you back up your device(s) first before installing any updates just in case something goes wrong.
You'll find instructions for backing up your device(s) right here.
After your backup is complete you can follow these instructions to install the update.
To recap, if your Apple device has been updated to any release of iOS 14 I strongly recommend that you first back the device up and then install the awaiting update.
---
Click here to ask me a tech question.