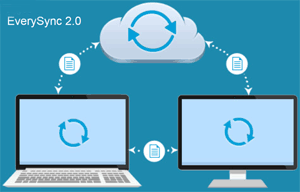 These days it seems that we have files stored everywhere. Such is life in our high-tech world.
Many of us find ourselves switching between our computers and mobile devices, working on the same files on multiple devices and trying our best to manage those files and keep them up-to-date as we go along.
In an effort to make that juggling act a little easier to manage, I recently began checking out a file sync software utility from the folks at EaseUS that keeps all of your files updated automatically on all of your devices, plus any cloud storage that you use. It's called EverySync 2.0, and I am extremely pleased with how well it performs. 
Throughout the day I take notes from my extensive research activities and shop around for images to use with my blog posts. These files typically end up on whatever device I'm using at the time, and then when I get back into the office and get ready to write my posts I have to transfer the files over to my work computer. It gets to be quite a hassle sometimes.
EverySync has completely automated that task. Now when I get back into the office I find that my files are quickly synced to my dropbox account where they are ready and waiting to be used at my convenience.
The entire process works quickly and smoothly. Once I have synchronized a file among my devices, any changes I make to that file are automatically synced in real time. This eliminates the need to manually synchronize a file every time I make a simple edit. What a time saver!
EverySync gives you a variety of syncing options. In addition to syncing files between folders on your computer and a mobile device or network share, you can also sync between your computer and an FTP Server and/or cloud storage account such as DropBox, Google Drive, or Microsoft's OneDrive.
You can also choose whether you want to sync your files in one direction (from your computer to OneDrive, for example) or in both directions.
Bottom line: If you use multiple devices and cloud storage space to work with, store and manage your files, EverySync is virtually guaranteed to make your life a whole lot easier.
Click here to read more about EverySync 2.0 over at the EaseUS website.