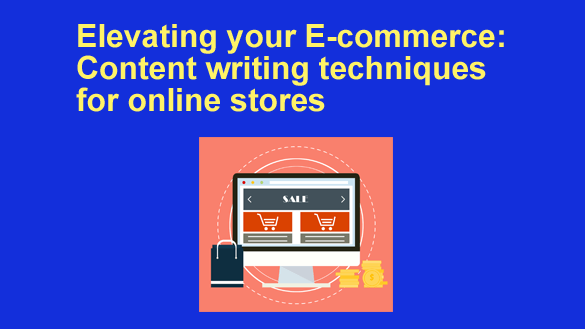 In the bustling world of online retail, one crucial factor that sets successful e-commerce businesses apart is quality content. Content is more than just a buzzword—it's the foundation that engages customers, drives sales, and boosts online visibility.
This post will explore the power of effective content writing, from compelling product descriptions to engaging blog posts, and even the process of hiring professional writers. 


The Power of Effective Content Writing in E-commerce
Content is a silent salesperson that works round the clock. It guides a prospective buyer's journey, from the moment they land on your website to the ultimate purchasing decision. More than just words on a webpage, content can set your online store apart from competitors, showcasing the unique value of your products and brand personality.
Moreover, quality content plays a pivotal role in SEO (Search Engine Optimization), helping your online store climb search rankings, increase organic traffic, and gain visibility in a crowded digital marketplace.
Understanding Your Audience
Before writing a single word, it's paramount to understand your audience. Know your customers—what resonates with them, their needs, preferences, and purchasing behaviors…
Are they value-driven buyers or luxury seekers? Do they prefer straightforward information or creative storytelling?
This knowledge allows you to craft tailored content that connects, convinces, and converts.
Crafting Compelling Product Descriptions
Think of your product descriptions as the heart of your sales pitch. It's not just about listing features—it's about translating those features into benefits that your target customer values.
For instance, instead of saying, "This laptop has an 8GB RAM," emphasize the benefit: "Experience lightning-fast speed and seamless multitasking with 8GB RAM."
Leverage sensory language to help customers visualize using the product, and don't forget to incorporate relevant keywords for SEO purposes.
Writing Engaging Blog Posts
While product descriptions attract customers, blog posts keep them engaged. A well-written blog post educates, entertains, and nudges readers toward purchasing—without the hard sell. It's about providing value that transcends your products.
For instance, if you sell cooking equipment, a blog post on "Top 10 Easy Recipes for Busy Parents" would resonate with your audience, indirectly promote your products, and establish your brand as a helpful resource.
Creating Persuasive Web Copy
Web copy is the first thing visitors see when they land on your website—it sets the tone for their entire experience. It needs to be clear, concise, and persuasive.
Whether it's a catchy headline, compelling call-to-action, or captivating 'About Us' page, every word should drive your visitor closer to becoming a customer. Remember to infuse your brand voice and maintain a consistent style across all web copy.
Utilizing Emails and Newsletters
Emails and newsletters are an excellent tool for building customer relationships and promoting repeat business. Personalize your communication to make customers feel valued—use their name, recall past purchases, and recommend relevant products.
A compelling subject line can significantly increase open rates, and a clear call-to-action encourages recipients to engage further.
The Role of Social Media Content
In today's digital era, social media is not to be ignored. Platforms like Instagram, Facebook, and Twitter allow you to engage with your customers in a casual and personal manner. Craft posts that engage, inform, and entertain your followers. Use catchy captions, relevant hashtags, and high-quality images or videos to capture attention and drive traffic back to your store.
Hiring Professional Writers
As your e-commerce business grows, you may find it beneficial to hire content writers. They bring expertise in crafting effective content and can save you precious time. Look for writers with a solid understanding of SEO, a style that complements your brand, and a track record of creating compelling e-commerce content.
Various platforms connect businesses with freelancers or writing agencies to meet your specific needs. In the realm of e-commerce, content reigns supreme. With strategic and compelling content, you can engage your audience, differentiate your brand, and ultimately, drive sales.
From understanding your audience to writing persuasive product descriptions, blog posts, web copy, and emails, every word you publish is an opportunity to connect with customers and elevate your online store.
---