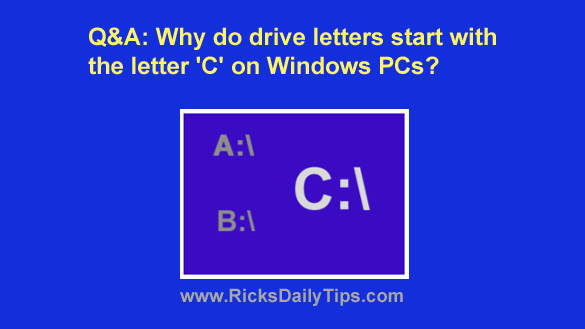 Question from Brittney:  I have a question I've been wanting the answer to for a long time and nobody seems to know the answer.
Now that I've found this site I'll ask you!
I've noticed that the drive letters in computers always start with "C" and go up from there?
There doesn't seem to be an "A" drive or a "B" drive. Can you tell me why that is?
Rick's answer:   I'll be glad to answer that question for you, Brittney.
Back in the early years of personal computing, PC's didn't come with hard drives. In fact, the earliest models such as my trusty Radio Shack TRS-80 Model 1 didn't even come with a floppy disk drive.
Mass storage devices for the first commercial home computers typically consisted of an audio cassette tape recorder/player connected to the computer via a cable.
Talk about sloooooowwwww!!!! It seemed like it took forever to load or save even the smallest programs and data files.
Luckily, before long floppy disk drives became available for home computers.
The first floppy drives were external drives that worked similar to the way modern day USB hard drives work – they were stand-alone devices that plugged into the computer (or expansion box) with a cable.
There were a handful of early operating systems (CP/M, for example) that used letters of the alphabet as drive designations, but those operating systems never became popular with the public on mass-marketed home computers.
Now that the background info is out of the way I'll actually begin to answer your question…
The first mass marketed home computer that was truly affordable was the aforementioned TRS-80 Model 1.
That very basic (but at the time awesome) machine referred to the first floppy disk drive as drive 0. If there was a second floppy drive it was referred to as drive 1.
The introduction of DOS (PC-DOS and MS-DOS) changed the way that most home PCs referenced any connected floppy drives.
Instead of being drive 0 and drive 1, from that point forward they became known as drive A and drive B.
When hard drives became available for "DOS" machines, it just made sense to refer to them as drive C since the letters A and B were reserved for use by a system's floppy disk drive(s).
Later, CD and DVD drives were thrown into the mix, and following the usual progressions they were typically referred to as drive D.
CD and DVD drives eventually made floppy disk drives obsolete, and several years ago computers began shipping without floppy drives altogether.
The thing is, by the time floppy drives had gone the way of the dinosaur everyone had become so accustomed to the hard drive being drive C and the optical drive being drive D that the drive letters A and B more or less faded into history along with the floppy disk drives they once referred to.
Nowadays a typical computer can use any number of drive letters since they have connectors for several types of flash memory cards, external USB drives, etc., each of which requires a unique drive letter of its own.
But most modern home computers don't use A or B as drive letters unless they happen to have so many drives attached that they actually need them (which I personally have never seen happen).
That's why drive letters in Microsoft Windows typically start at C instead of A, Brittney.
Thanks for asking such a great question!
Bonus tip: If you know of someone who still has a stack of old 3.5″ floppy disks tucked away in a closet, you can let them know that they still might be able to retrieve the data from those ancient disks.
The ability to retrieve the data from magnetic disks degrades over time (and those floppies are downright ancient), but it's always worth a try if the data is important enough.
All they'll need is an inexpensive USB 3.5″ floppy drive. (#ad)
These drives plug into an open USB port just like the external hard drives that so many of us use on a daily basis. Simply plug in the drive, insert a floppy disk and get right to work! With a stroke of luck the files might still be readable!
---